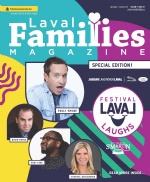 In The Latest Issue:
Latest Issue:
Laugh, Cheer & Celebrate...
It Starts with a Laugh…a...
30 Minute Hit is a Hit i...
Golden Touch Operetta International Release
Auditions Registration Now Open!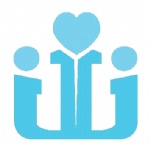 BY:
Laval Families Magazine
Laval Families Magazine in collaboration with Panarmonia Atelier Musical, Chroma Musika and the Sir Wilfrid Laurier School Board will be participating in a massive extra-curricular project for the creation of a children's book/CD called The Golden Touch.

Following the success of their retelling the myth of Demeter and Persephone in the picture book and CD Time for Flowers, Time for Snow, Gov. Gen. Award winning author and lyricist Glen Huser (Vancouver), and renowned composer Giannis Georgantelis (Athens) have taken on the retelling of the story of King Midas. Brilliantly illustrated by 3 times Governor General award winning illustrator Philippe Béha and narrated by the legendary Terry Jones of Monty Python fame, The Golden Touch invites readers and listeners into a world where the old adage, "be careful what you wish for," is borne out as a king with a lust for wealth responds to an offer by the god Dionysus that he might have anything he desires by requesting that all he touches should turn to gold.

Retold in picture book form and with music incorporating the voices of students in Sir Wilfred Laurier School Board and the Orchestre Symphonique Pop de Montréal, The Golden Touch is filled with the antics of thoughtless fauns, the ancient storyteller Silenus, the misguided king who should have stuck to tending roses, his queen-always ready for battle--and their beloved daughter, Zoe. It's a story in which comedy plays out against tragedy, leaving us with a reminder that we live in a world rich in other kinds of gold.

This musical transatlantic super production is being produced by opera singers and musical directors Dimitris Ilias and Maria Diamantis and the Book/CD will be published by Tradewind Books - Vancouver with distribution in Canada, the US, Australia, Great Britain, and New Zealand.

The children from Sir Wilifrid Laurier School Board will be accompanied by the Orchestre Symphonique Pop de Montreal and they will receive a copy of the book in which their names will be listed along with the recording.

Sing with a Symphonic Orchestra!
Record a professional CD in Oscar Peterson Concert Hall!
Get the star treatment: red carpet event, limousines, book-signing and media interviews.

Register your child for the auditions by September 26, 2014. For those students who participate in the production, there will be a $75 fee. For more info about the auditions and the project, your child has to click the Golden Touch button on the LFM Web Site Home Page or follow this link www.lavalfamilies.ca/GoldenTouch.asp.