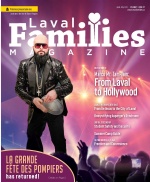 In The Latest Issue:
Latest Issue:
La Grande Fête des Pompi...
Spring is Here at Last
Marco Mr. Tam-Tam: From ...
Comedy Reflects Real Life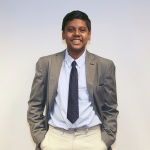 BY:
Rushil Kumar Godavarthi
Issue 22
Our high school Young Authors Contest winner for this issue is Rushil Kumar Godavarthi, a secondary I student at Laval Junior High School. Rushil had the opportunity to sit down with Montreal-based stand-up comedian, Pino Pirillo, for a one-on-one interview.

Q: Tell me about what you were like as a kid about my age. Were you always making people laugh even back then?
A: I was the kid in the family who was the best at imitating people. So, at parties or get-togethers, people used to ask me to act out someone in the family, like my grandfather. Sometimes I was forced to do the imitations, but I was never a shy person!

Q: When you were a kid, was being a stand-up comedian your dream or did you have another career in mind?
A: I've always wanted to be a stand-up comedian, and my dream job was to be on Saturday Night Live (SNL).

Q: What was your favourite subject in high school?
A: My first favorite subject in high school was drama class. My second was history. I abhorred gymnastics in gym.

Q: What is your favourite pastime?
A: My favourite pastime is spending time with family and friends. When I'm not with family or friends, I watch movies and stand-up comedy shows like SNL or Eddy Murphy, etc.

Q: What is your typical day like? Do you go by any principles?
A: I do comedy as part time job, as a full-time passion, but I have another job. My daily routine is to get up, get ready for work, make sure my children are ready to go to school, go through my day, try to find things which are funny, note them down and make a joke out of it later. In the evenings, I help my children with their homework, but at the same time we eat because nowadays, we don't have time. After we're done, we play a game, I tuck my children in bed and then it's mommy and daddy time.

Q: Since you're Italian, who is your audience, mixed Italian-Canadian, or children, youth, or older people?
A: Normally it tends to be an ethnic group. I have the ability to know who the is audience is, so that I don't offend anyone of a different ethnic origin. I try to make it appropriate as much as I can.

Q: During the past Christmas season you performed in a lot of shows. Can you tell me about those experiences?
A: Yes, I recently had shows on December 25-27th, 2016 and then January 13-15th, 2017. I performed with two other people: Joe Cacchione and Enrico Rennella. All the money we raised goes to the Montreal Neurological Institute.

Q: Have you ever gotten stage fright before or during a show? (If yes, how did you overcome it?)
A: Every single time before I go on stage, I'm very anxious and nervous, but when I'm called on stage and when I'm in front of the audience, that's when I feel the most relaxed. It's normal to be nervous because when you step up in front of a crowd, you're not aware what's about to happen, but then that feeling of nervousness disappears. Another way to overcome stage fright, before I'm called on stage, is I take 20 minutes to envision the set and go over my jokes.

Q: Do you have any mentors for your career as a stand-up comedian?
A: Right now, my mentor is Guido Grasso Jr., who has travelled the world with another comedian named Joe Avati and Mr. Grasso was his opening act. When it was time for Mr. Grasso to have his own show, he let me be his opening act because Mr. Grasso saw the talent in me to make people laugh. Another person I revere is Russell Peters.

Q: My parents have suggested that I don't go into performance arts because you can't cater to your family's needs until you become famous. Do you feel that way, or do you have any other profession?
A: My other profession is being an account executive for a company that designs and manufactures store interiors. What I do is create shelves, coat racks, chairs, etc., so that the products can hang or sit on the tables, etc.

Q: Could you please tell me about your family (wife and kids)?
A: I have been married for 10 years to my wife and I have a daughter and son.

Q: Does your family think you're funny?
A: Yes, because I'm the youngest in my family and I'm the guy in the family who everyone likes to have around. My dad tells me to be more serious, but overall, my family, including my dad, still think I'm funny.

Q: Are your kids allowed to watch videos of your shows?
A: Sometimes, but it all depends on what the content is.

Q: Did anyone ever tell you (either recently or when you were younger) that you aren't funny and that you wouldn't make it as a comedian?
A: Normally, a person wouldn't come up and tell me that I'm not funny. People just introduce me like, "Hi, this is Pino Pirillo and he's really funny." So far, nobody thinks I'm not funny. In my high school yearbook, I was voted the person most likely to become a comedian.

Q: What is your secret to success in comedy?
A: The secret is mostly just being myself. My personality is just an exaggeration of myself. I try to make it clear and understandable to my audience, in an exaggerated way of what I go through in my life. For example, I talk about an argument with my father, and if a thirteen-year-old or a father hears that, they have something to relate to because maybe the father or the teen had the same argument. All I do is I act out the argument, but in a funny way, and I bring it to the point where the audience knows what I'm talking about, without being that vulgar.

Q: If you could do a stand-up show anywhere in the world, where would it be?
A: I would like to perform at the Colosseum at Caesars Palace in Las Vegas because Celine Dion also performed there too. I would also like to be in the Just For Laughs Festival and that is one of my goals.

Q: Why did you pick the name "Italian Bad Boyz of Comedy" for one of your shows?
A: This comedy show was created by Ralph Buttino and this show has been going on for 10 years.

The process is they choose comedians from Canada or around the world and they get to perform on this show. I was in this show in 2016. Their last show was called "Italian Bad Boyz of Comedy: Ethnic Invasion."

Q: What is your best inspiration for jokes?
A: My family, parents and lots of the stupidities I did in my youth are my main inspirations. Other inspirations are day-to-day conversation on various topics. If I find something funny when I talk with someone, I take note of it and try to make a joke out of it later.

Q: What are the challenges/the competition you faced in stand-up comedy?
A: A challenge for me is gossip. If somebody, whether it's backstage or whoever, tells me rumours, I don't want to hear it. Another challenge is sometimes I had put my foot down because I didn't want collaborate with some people because they don't do it for fun, like I do. They do it for the money.

Q: What advice do you have for children my age on how to become a comedian?
A: If you want to become a comedian or anything else, my advice is that you should start early. You should start early, so you can improve at what you do. I took a comedy writing class so I could do better.

Q: What would you like your stand-up comedy career to be like in five years from now?
A: I would be extremely happy the way it is in my career so far, even if it stays the same as it is now. I don't want to be on any shows unless someone asks me to. I want it to happen naturally.