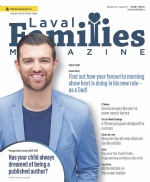 In The Latest Issue:
Latest Issue:
The Natural Heritage of ...
November: Runaway Preven...
10 Candles for the Pédal...
Two Neighbourhoods, One Big Party!

BY:
Laval Families Magazine
Issue 22
For the second year in a row, the Association Fête de Quartier Val-des-Arbres et Val-des-Brises (AFQV) will host the Fête de quartier in the Val-des-Brises sector at the 22nd regiment park. This year's event will take place on May 27th from 1:00-5:00 pm.The event was launched a year ago, to create a community event that would join the two neighbourhoods that are separated by the Jean-Noël piece of highway 440. Following last year's success, the organizers are expecting about 1000 participants in 2017 at this family-oriented event. The afternoon will be filled with sports and games for families of all ages and sizes.

"We will also have inflatable games, tennis workshops, food and snacks for sale, face painting for children, music and door prizes," says Laura Battisti, one of the volunteer event organizers.

Getting to Know Your Neighbourhood
The event is also a great opportunity for local businesses and community organizations to showcase their services to citizens of both neighbourhoods. This year, there will be more than 20 kiosks on site the entire afternoon.

Though the event is not meant to be a marketplace, families can enjoy and discover local food items and products from businesses in their area. "Last year, an ice cream shop and bakery were big hits with the residents," says Battisti.

Battisti notes that the event is original because each year, the location will alternate neighbourhoods.

For new residents of the two neighbourhoods, the event can serve as a springboard for getting to know the services and organizations available. Last year, almost 600 residents took part in the afternoon's festivities, which take the volunteer committee an entire year to prepare. Mark your calendars for May 27th, and get to know your neighbourhood in an action-packed afternoon!