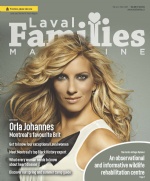 In The Latest Issue:
Latest Issue:
Rabbids Amusement Centre...
Maximizing Children's Po...
Special Needs Camp: A Fu...
Laval Beer Festival
HOSTED BY:
Festival Des Bières de Laval
LOCATION:
Centre de la nature |
SCHEDULE:
STARTS:
Friday, July 13, 2018

ENDS:
Sunday, July 15, 2018

A big family-friendly, country-style celebration of Quebec's brewing industry and regional food products. The Festival des Bières de Laval brings together 70 exhibitors including more than 35 microbreweries from across Québec, along with kiosks offering Quebec ciders, food and regional specialties. The program includes workshops on pairing food and beer, a children's play area (inflatable games, face painting, animation, etc.) and an outdoor stage with a variety of live music.
<
December 2018 January 2019 February 2019 March 2019 April 2019 May 2019 June 2019 July 2019 August 2019 September 2019 October 2019 November 2019 December 2019
>
▲