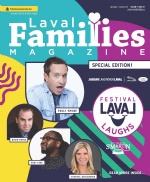 In The Latest Issue:
Latest Issue:
Laugh, Cheer & Celebrate...
It Starts with a Laugh…a...
30 Minute Hit is a Hit i...
Live Group
SCHEDULE:
STARTS:
Friday, June 22, 2018
20:00- 22:00
ENDS:
Friday, August 17, 2018
20:00- 22:00
Throughout the summer, Centropolis presents various free outdoor shows on Friday nights from 8 pm to 10 pm at Place Centrale. Several local music groups will be invited to turn up the summer heat.

Musical performances at Place Centrale are made possible thanks to the collaboration of the Centrale des artistes de Laval.
<
June 2018 July 2018 August 2018 September 2018 October 2018 November 2018 December 2018 January 2019 February 2019 March 2019 April 2019 May 2019 June 2019
>
▲