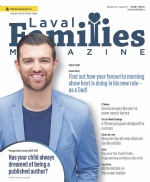 In The Latest Issue:
Latest Issue:
The Natural Heritage of ...
November: Runaway Preven...
10 Candles for the Pédal...
St-Bruno Block Party
HOSTED BY:
Société Alzheimer Laval
LOCATION:
Parc Lausanne, Vimont |
SCHEDULE:
Saturday, August 04, 2018


Bring the whole family for a day of inflatable games, entertainment, face-painting, mascots, kiosks, refreshments, tasty food and more! The festivities start at noon with a movie in the park at 8:30pm. Free popcorn for everyone!
<
September 2018 October 2018 November 2018 December 2018 January 2019 February 2019 March 2019 April 2019 May 2019 June 2019 July 2019 August 2019 September 2019
>
▲