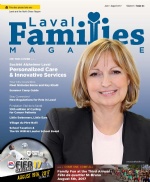 In The Latest Issue:
Latest Issue:
Summer Fun for Everyone
Personalized Care & Inno...
Come One, Come All

The 2nd Annual Teacher Appreciation Contest
CONTEST IS CLOSED
Registration / Voting Deadline: March 16, 2017
Register to win some of these amazing prizes from the following sponsors: 30 Minute Hit Laval, Pâtisserie St-Martin, Smugglers' Notch, David's Tea and Torii Sushi.
Over $7,000 worth of prizes to be won! All prizes will be drawn on March 16th, 2017.
The prizes in details are as follows:
Fifty (50) teachers will each win a free month's membership to 30 Minute Hit Laval
www.smuggs.com
Ninety (90) teachers will each receive a free tea coupon
Ninety (90) teachers will each receive a free individual tea sachet
Twenty-five (25) teachers will each receive a $10 gift certificate


PAST WINNERS