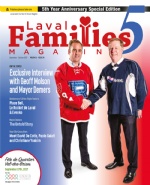 In The Latest Issue:
Latest Issue:
We've Grown Up with a Wh...
Place Bell: Laval's Newe...
Le Rocket de Laval: Forg...

Putting Edge Centropolis - Win a family/friend certificate
CONTEST IS CLOSED
Registration / Voting Deadline: August 14, 2017
Putting Edge is a world full of fun, imagination and activity, with an exciting twist on the traditional game of miniature golf. You leave "the real world" and enter a world full of "Glow-in-the-Dark" colors, images and sounds with an 18 challenging hole mini golf course.
Register for a chance to win a family/friend certificate for one round of 18-holes glow-in-the-dark mini golf for up to four (4) people.
One (1) family/friend certificate will be drawn on August 15th, 2017.Putting Edge Centropolis (Laval)
105, Promenade du Centropolis
Laval, QC H7T 0B3
www.puttingedge.com
(450) 681-3334
PAST WINNERS