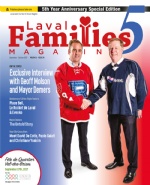 In The Latest Issue:
Latest Issue:
We've Grown Up with a Wh...
Place Bell: Laval's Newe...
Le Rocket de Laval: Forg...

Passion Soccer Boutique - Coaching Sessions - September-October 2017
CONTEST IS CLOSED
Registration / Voting Deadline: October 19, 2017
Enter for a chance to win one (1) of three (3) free coaching sessions
of 1-hour for your classroom students!
All the session certificates will be drawn on October 19th, 2017Passion Soccer Boutique
PAST WINNERS