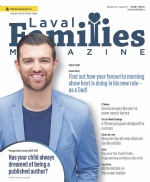 In The Latest Issue:
Latest Issue:
The Natural Heritage of ...
November: Runaway Preven...
10 Candles for the Pédal...

Putting Edge Centropolis - Nov. 2017 Jan. 2018
CONTEST IS CLOSED
Registration / Voting Deadline: January 12, 2018
Register for a chance to win a family/friend certificate for one (1) round of 18-holes glow-in-the-dark mini golf for up to four (4) people.
One (1) family/friend certificate will be drawn on January 12th, 2018.
Putting Edge Centropolis (Laval)
105, Promenade du Centropolis
Laval, QC H7T 0B3
www.puttingedge.com
(450) 681-3334
PAST WINNERS