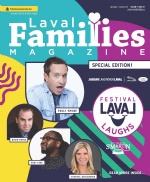 In The Latest Issue:
Latest Issue:
Laugh, Cheer & Celebrate...
It Starts with a Laugh…a...
30 Minute Hit is a Hit i...

Centre Du Sablon - Win 1 of 5 day-passes - Nov 2017 Jan 2018
CONTEST IS CLOSED
Registration / Voting Deadline: January 12, 2018
Centre du Sablon offers a variety of activities, ranging from sports to community based affairs, as well as cultural events to accomodate the needs of our clients of all ages.
Enter for a chance to win one (1) of five (5) day-passes to Centre du Sablon's "Sablon Fit".
All day-passes will be drawn on January 12th, 2018.
La Corporation du Centre du Sablon
755 Chemin du Sablon
Laval H7W 4H5
www.websablon.ca
(450) 688 8961
PAST WINNERS