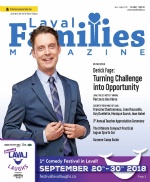 In The Latest Issue:
Latest Issue:
Summer in the City
Derick Fage: Turning Cha...
Sneaky Ways to Get Your ...

4Cats Arts Studio Laval - Arts ní crafts sessions - Nov. 2017 Jan 2018
CONTEST IS CLOSED
Registration / Voting Deadline: January 12, 2018
4Cats Arts Studio is a professional art studio for artists ages 2-15. Kids learn about famous artists and use professional art materials to create masterpieces in the style and spirit of those artists!
Enter for a chance to win one (1) of three (3) arts ní crafts sessions of 1-hour for your classroom students!
The session certificates will be drawn on January 12th, 2018.
4Cats Arts Studio
Place Vilamont #306
1895 boul. Renť-Laennec
Laval H7M 5E2
www.4cats.com
vimont@4cats.com
(450) 933-7400
PAST WINNERS