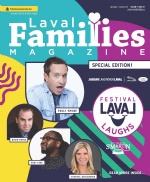 In The Latest Issue:
Latest Issue:
Laugh, Cheer & Celebrate...
It Starts with a Laugh…a...
30 Minute Hit is a Hit i...

Orchestre symphonique de Laval - Concert Tickets - Nov. 2017 Jan 2018
CONTEST IS CLOSED
Registration / Voting Deadline: December 08, 2017
Enter for a chance to win a set of four (4) tickets to "A World of Traditions" concert at Salle-André-Mathieu (Les grands concerts series) with Les Petits Chanteurs de Laval, conducted by Alain Trudel, taking place on Dec. 13th at 7:30 pm.
This set of tickets will be drawn on Dec. 8th, 2017.
Orchestre Symphonique De Laval
3235 boul. Saint-Martin Est, #203
Laval H7E 5G8 • 450 978-3666
osl.qc.cq
PAST WINNERS