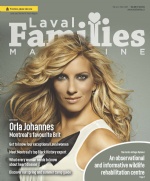 In The Latest Issue:
Latest Issue:
Rabbids Amusement Centre...
Maximizing Children's Po...
Special Needs Camp: A Fu...

Extreme Evolution
CONTEST IS CLOSED
Registration / Voting Deadline: March 07, 2018
Participate for a chance to win one (1) of three (3) free (1) one-month memberships to Extreme Evolution!
The draw will take place march 7th 2018.
Centre Sportif Extrême Évolution -Laval
4463 autoroute 440
Laval, QC H7P 4W6 - (450) 688-8333
extremeevolution.ca
PAST WINNERS