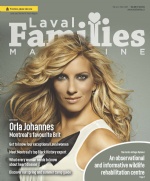 In The Latest Issue:
Latest Issue:
Rabbids Amusement Centre...
Maximizing Children's Po...
Special Needs Camp: A Fu...

Goldtex Certificate
CONTEST IS CLOSED
Registration / Voting Deadline: March 07, 2018
Enter for a chance to win one (1) of two (2) gift-certificates of $20 to shop at Goldtex!
Prizes will de drawn March 7th, 2018.
Goldtex

8875 rue Salley
LaSalle, QC H8R 2C8 - (514) 365-9699
www.goldtex.ca
PAST WINNERS