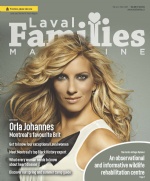 In The Latest Issue:
Latest Issue:
Rabbids Amusement Centre...
Maximizing Children's Po...
Special Needs Camp: A Fu...

Patisserie St-Martin Gift certificate
CONTEST IS CLOSED
Registration / Voting Deadline: February 26, 2018
Register to be one (1) of the twenty (20) lucky contestants to be selected for one (1) of two (2) zeppole-eating contests at Patisserie St-Martin! Contestants will compete to see who can eat the most zeppole in 30 minutes!
The winner of each contest will win a $300 buffet voucher as well as a $100 gift certificate for all your bakery and catering needs!
Contest will be held on March 10th, 2018.
Prizes will be drawn February 26th, 2018
Patisserie St-Martin
2495 Boul Saint-Martin Est
Laval, QC H7E 4X6 - (450) 629-6202
www.patisseriestmartin.com
PAST WINNERS