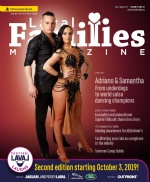 In The Latest Issue:
Latest Issue:
Another Exciting Summer ...
One Step at a Time
The Second Edition of Fe...

Young Authors Contest 2018-2019
This contest is open to all SWLSB elementary and high school students! EIGHT winners will be selected in all! (Two per issue.)
HOW TO PARTICIPATE:
WRITE a 300 to 500-word magazine article that relates to one of the two categories below.
SUBMIT your article to yac@lavalfamilies.ca
USE a parent's email address to submit the article
INCLUDE in the email a title for your article, your full name, your school and grade and a parent's phone number.
CATEGORIES:
Explore a career path of your choice (describe the career, the education required, the tasks it involves, and how you see this career evolving in the future)
Explore a global issue affecting youth in the world today, and present some suggestions or solutions that could improve the situation
JUDGING:
All articles submitted will be judged by the Editor of Laval Families Magazine. For each issue of the
magazine beginning with the November-January issue, two winners will be selected from the entries
received up to that point (one from elementary and one from high school). After that, two additional
winners will be selected for the following issues of the magazine for a total of eight (8) winners.
WINNERS:
Will have their article published in the magazine (two winners per issue).
A $100 cash prize will be awarded to each winner.
Please follow ALL instructions presented on the YAC 2018-2019 poster:


PAST WINNERS