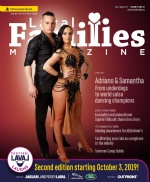 In The Latest Issue:
Latest Issue:
Another Exciting Summer ...
One Step at a Time
The Second Edition of Fe...

Passion Soccer Boutique - Coaching Sessions for your 6 to 12 year-old!
CONTEST IS CLOSED
Registration / Voting Deadline: May 15, 2019
Enter for a chance to win one (1) of five (5) free coaching sessions of 1-hour for your
6 to 12-year-old child
!
All session certificates will be drawn on May 15th, 2019.Passion Soccer Boutique
1787 Boul. St-Martin
Laval, H7S 1N2
store.passionsoccer.ca
(514) 316-7900
PAST WINNERS