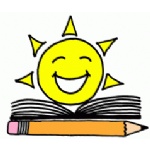 Readers-Writers Summer Workshop
SERVICES:
Reading & Writing Workshops
ABOUT:
The Readers-Writers Summer Workshop is a unique language arts program. Our goal is to create a stress-free learning environment in which the children's self-esteem is enhanced and a more positive attitude toward reading and writing is developed. The children listen to stories, read, write during writing workshop and participate in exciting, literacy-related activities planned by the teacher.
The average group size is twelve students.
The 2013 workshop will take place July 29th to August 16th.
Monday to Friday, 9:00 AM to noon.
For children K to grade 6.
Workshops take place at the following schools:
St. Paul's
2425 Honfleur, Laval
Souvenir
4885 Chemin Du Souvenir, Laval
Terry Fox
900 Des Lacasse, Laval