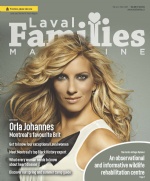 In The Latest Issue:
Latest Issue:
Rabbids Amusement Centre...
Maximizing Children's Po...
Special Needs Camp: A Fu...
Laval Symphony Orchestra–Bernstein
LOCATION:
Salle André-Mathieu |
SCHEDULE:
Wednesday, November 07, 2018 19:30 - 21:00


Who does not know the famous tunes of Leonard Bernstein's musical West Side Story? This illustrious multi-faceted musician–whose birthday we are celebrating this year–has written many other works, including the powerful serenade played here by the great Quebec violinist Martin Chalifour, principal violin of the Los Philharmonic Orchestra.
<
November 2018 December 2018 January 2019 February 2019 March 2019 April 2019 May 2019 June 2019 July 2019 August 2019 September 2019 October 2019 November 2019
>
▲