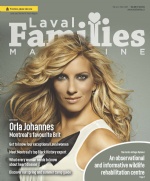 In The Latest Issue:
Latest Issue:
Rabbids Amusement Centre...
Maximizing Children's Po...
Special Needs Camp: A Fu...
Laval en blanc– 2019 Edition
LOCATION:
Berge des Baigneurs |
SCHEDULE:
STARTS:
Tuesday, January 01, 2019

ENDS:
Thursday, January 31, 2019

This is the winter event not to be missed! On the program: outdoor and sports activities, marquees, entertainment, and much more.
<
November 2018 December 2018 January 2019 February 2019 March 2019 April 2019 May 2019 June 2019 July 2019 August 2019 September 2019 October 2019 November 2019
>
▲