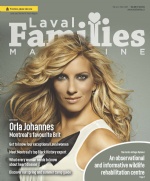 In The Latest Issue:
Latest Issue:
Rabbids Amusement Centre...
Maximizing Children's Po...
Special Needs Camp: A Fu...
National Hunting and Fishing Outfitters Show
LOCATION:
Place Forzani |
SCHEDULE:
STARTS:
Tuesday, January 01, 2019

ENDS:
Thursday, January 31, 2019

Specially designed lounge designed for lovers of nature,hunting and fishing. Meet with representatives from more than 160 hunting and fishing destinations. Speakers, hunting and fishing stores, fishing boats, local produce,on-site boating safety review and much more.
<
November 2018 December 2018 January 2019 February 2019 March 2019 April 2019 May 2019 June 2019 July 2019 August 2019 September 2019 October 2019 November 2019
>
▲