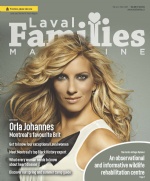 In The Latest Issue:
Latest Issue:
Rabbids Amusement Centre...
Maximizing Children's Po...
Special Needs Camp: A Fu...
Laval Christmas Market
LOCATION:
Centre de la nature |
SCHEDULE:
STARTS:
Friday, December 07, 2018

ENDS:
Sunday, December 09, 2018

At this holiday market you'll find gourmet pleasures, jewellery, toys, fashion accessories, decorative accessories, local products, crafts, and more. About 60 exhibitors offer quality products and lots of original gift ideas for you and your loved ones!
<
November 2018 December 2018 January 2019 February 2019 March 2019 April 2019 May 2019 June 2019 July 2019 August 2019 September 2019 October 2019 November 2019
>
▲