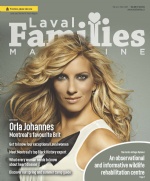 In The Latest Issue:
Latest Issue:
Rabbids Amusement Centre...
Maximizing Children's Po...
Special Needs Camp: A Fu...
LES CHAMBRISTES: BEAUTIFUL ARMENIA
HOSTED BY:
Orchestre Symphonique de Laval
LOCATION:
Église Saint-Maurice-de-Duvernay |
SCHEDULE:
Saturday, March 02, 2019 00:00


COST:
À partir de 24,85 $ / From $24.85
An impressive musical journey, from Komitas to Aznavour via Khatchaturian.
Série Les Chambristes - Come and meet the Orchestra's musicians in a relaxed setting: a hosted Saturday afternoon chamber music concert at 3 p.m., followed by an informal talk and light refreshments in the company of the musicians.
<
November 2018 December 2018 January 2019 February 2019 March 2019 April 2019 May 2019 June 2019 July 2019 August 2019 September 2019 October 2019 November 2019
>
▲