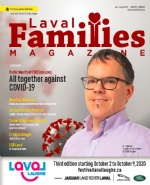 In The Latest Issue:
Latest Issue:
Four Little Words Have N...
An Unprecedented Public ...
Because a Little Laughte...
Video helps kids with arthritis explain their needs to teachers

BY:
The Arthritis Society
On the shores of the Lac des Deux-Montagnes on Sunday September 21st, The Arthritis Society launched a new tool to help kids living with arthritis: the video ''Arthritis at School: Kids Get it Too!''. Produced by Gillian Taylor, a retired clinical nurse specialized in rheumatology, and distributed with the collaboration of The Arthritis Society, this video gives teachers and other educators a better understanding of how arthritis affects students, and offers suggestions for how to make school a more welcoming place for a student with juvenile idiopathic arthritis (JIA). This launch was part of the Childhood Arthritis Family Day, taking place for the second consecutive year at the Hudson Yacht Club, west of Montreal.

"Arthritis at School: Kids Get it Too!" gives a voice to young patients who sometimes find it difficult to explain to teachers what is juvenile arthritis and what small changes could be made in the school setting to make their life easier and better promote their success. The video, produced in French and in English, is already attracting international attention. It can be found at: www.arthritis.ca/kidsgetittoo.

Six-year-old Rosalie, who has JIA, was disappointed for not being chosen to share her story on camera, but is determined to share it with her teacher. Mom will make sure of it. "The information doesn't go around at school. The school nurse if often the only one that knows about our kid's condition. Rosalie's teachers must be aware of it too." Audrey, who is 17 years old, found the video a great idea and says she would have liked to have this tool a few years back. She had to quit school because, on top of her JIA, she has Crohn disease and an immune deficiency disorder. The sum of her conditions makes her very tired and diminishes her ability to focus. "Teachers and school principals don't always understand what we are going through."

September being Arthritis Awareness Month, the presence of so many families living with arthritis made that day the perfect occasion to discuss what it is like to grow up with arthritis. Five panelists, including Dr. Sarah Campillo and four young people who grew up with JIA, answered the questions of participants and gave a hopeful perspective on what awaits these 2 families. It is reassuring for parents to know that even with a cruel diagnosis like JIA, their child can dream of becoming an architect, a designer or a pediatric rheumatologist like Dr. Campillo!

Senators Larry Smith and Jacques Demers were present to convey a message that is close to their heart: keep moving, keep dreaming and never give up! For everyone, physical activity is a guaranty of better health; for the approximately 1,500 young Quebecers living with JIA, it is often the difference between remaining mobile or, in the long run, having to adapt to important disabilities.

For this Family Day, members of the Hudson Yacht Club volunteered to offer sailboat rides to participants for a good part of the day. Fourteen-year-old Alexis was even able to sail twice. "I had a sailing training class last summer. I could help a little bit today on the boat!" says Alexis, obviously making his mom proud.

ABOUT THE ARTHRITIS SOCIETY

The Arthritis Society has been setting lives in motion for over 65 years. Dedicated to a vision of living well while creating a future without arthritis, The Society is Canada's principal health charity providing education, programs and support to the over 4.6 million Canadians living with arthritis. Since its founding in 1948, The Society has been the largest non-government funder of arthritis research in Canada, investing nearly $190 million in projects that have led to breakthroughs in the diagnosis, treatment and care of people with arthritis. The Arthritis Society is accredited under Imagine Canada's Standards Program. For more information and to make a donation, visit www.arthritis.ca.