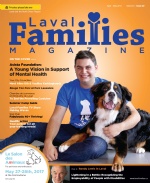 In The Latest Issue:
Latest Issue:
Asista Foundation: A You...
We Can Inspire Others wi...
What Can Teachers Do Whe...
Exposition Le cerveau, c'est génial
HOSTED BY:
Armand-Frappier Museum
LOCATION:
Armand-Frappier Museum
|
531, boulevard des Prairies
,
Laval
(
QC
)
H7V 1B7
MAP
SCHEDULE:
STARTS:
Monday, June 06, 2016

ENDS:
Friday, September 01, 2017

Discover one of the most important ans fascinating human organs: the brain!

Carried out jointly with the Musées de la civilisation, the exhibition increases our knowledge of the human brain and its vital role. Mainly, it demystifies the functioning of the brain but also looks at some of its dysfunctions. It contributes, in its own way, to debunking myths ans taboos surrounding this prodigious organ.
<
February 2017 March 2017 April 2017 May 2017 June 2017 July 2017 August 2017 September 2017 October 2017 November 2017 December 2017 January 2018 February 2018
>
▲