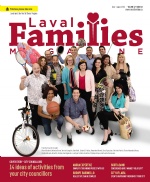 In The Latest Issue:
Latest Issue:
Summer Activities for Al...
14 Ideas of Activities f...
Educational Activities f...
Magazine pick-up locations!
Laval Families Magazine is published five times a year with a solid distribution of 32,000 copies to locations where parents go with their children. These locations are in Laval and the North Shore Region; LFM is distributed in elementary schools and high schools, private schools, child-care centers, recreation centers, doctor's offices, retail stores, grocery/food markets, medical and dental clinics, CLSCs, Canada Post, door to door, subscriptions and local businesses.
Laurentians & Lanaudière Families Magazine is also published five times a year and is distributed directly from the elementary schools of the region.
If you are still looking for a copy of the magazine, finding your personal copy of LFM is easier than ever. See the list below to find the closest pick-up location.
Don't forget that you could always get a copy delivered to your home or business by subscribing today.Click here to subscribe.
For a retail pick-up location in your neighborhood, see the list below:
Blainville
Chomedey
Duvernay
Laval-des-Rapides
Mascouche
Oka
Pont-Viau
Rosemère
Ste-Dorothée
Ste-Rose
StV-de-Paul
Vimont
Blainville
Chomedey
Duvernay
Laval-des-Rapides
Mascouche
Oka
Pont-Viau
Rosemère
Sainte-Dorothée
Ste-Rose
Saint-Vincent-de-Paul
Vimont