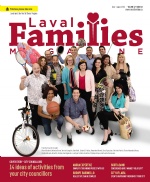 In The Latest Issue:
Latest Issue:
Summer Activities for Al...
14 Ideas of Activities f...
Educational Activities f...
Subscribe to our E-mailing list/E-newsletter
Laval Families e-newsletters provide families with important, relevant and local information they need. As a compliment to our already successful Laval Families Magazine and lavalfamilies.ca web site our free e-newsletters give Laval residents information on events, topics, special deals, parenting news and more. Our e-newsletter is released the first week of each month.


How Do I Update My Details?
If you are currently subscribed to the our e-newsletter/mailing list but recently changed your email address and wish to update your details, you will need to unsubscribe using your old email address and subscribe again with your new email address.