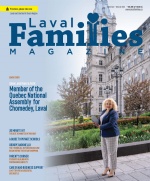 In The Latest Issue:
Latest Issue:
Happy Back to School sea...
Sona Lakhoyan Olivier
Students Dealing with Pe...
Our Mission
Our mission is to strengthen a sense of community by providing Laval Families with comprehensive and locally based resources and information regarding parenting, education, special needs, community events, recreation, health, wellness and more.

Our primary goal is to provide information for parents and families in the Laval and north shore area. In addition, we have a vision to partner with large and small businesses that share our core values.

"What the child becomes, the community becomes!" We firmly believe in this core value and so our resources are devoted to providing necessary information to help parents, families and grandparents raising a healthy happy families and productive children.

The success of our publication results from a heart felt and profound commitment to children, families, grandparents and the community we live in and that we call home.