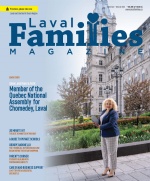 In The Latest Issue:
Latest Issue:
Happy Back to School sea...
Sona Lakhoyan Olivier
Students Dealing with Pe...
Advertise with us and/or Request Your Media Guide
Laval Families Magazine advertisers look to our magazines, annual guides, Web site, events and e-newsletter for a variety of promotional opportunities.
Because we believe that a multi-layered approach provides the most effective and broad-reaching marketing plan, we encourage packaging with partnership promotion incentives.
Starting with the foundation of our quarterly print advertising. Advertisers can enhance their exposure through a presence in our annual guides, our Web site and our special events, while earning promotional incentives for ad frequency and/or event participation.
We're here to help you connect with our powerful "buying" readers!
Please complete this form or call us at 450-981-0375. You could also write to us at advertise@lavalfamilies.ca.