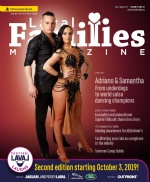 In The Latest Issue:
Latest Issue:
Another Exciting Summer ...
One Step at a Time
The Second Edition of Fe...
Devoted Professionals to Take Care of Our Own

BY:
Christine Girard
Issue 26
The Cité de la Santé Foundation proudly participated in the celebration evening organized by the Multidisciplinary Council of the CISSS de Laval, which took place on October 25th. During the event, the engagement and devotion of hundreds of professionals working in our installations was celebrated. The Foundation distributed $20,000 in continued training scholarships and 10 Distinction Awards were presented in many categories (passion, mentoring, career, innovation and teamwork)

Chantal Paquin, Social Worker
Centre de réadaptation en déficience intellectuelle et troubles envahissants du développement (CRDITED), Career Award
The Career Award celebrates an employee for his or her career, marked by dynamism and leadership. In the Readaptation and Psychosocial Category, the 2017 award was given to Mrs. Chantal Paquin, social worker since 1978.

After working in several fields and contexts, namely in international adoption, Mrs. Paquin began to work in the field of intellectual disability. At CISSS de Laval since 2008, her mandate consists in the planning and organization of intermediate accommodation resources for people facing intellectual disabilities, autism or even physical disability (more recently). When families or natural care-takers are tired or getting older, she helps people transition towards these new environments. As her career is ending – she will retire in December 2018 – Mrs. Paquin looks at her professional path with enthusiasm: "The people who work in this field, we've chosen to try to make a difference, to contribute to the well-being. In 40 years, I can say I am truly happy to see that I've taken part in moving things and changing lives."

Renée Massé, Chief Assistant – Radiology
Hôpital Cité-de-la-Santé, Passion Award
The Passion Award celebrated an employee who demonstrates a very positive, passionate and devoted attitude towards his or her professional role. In the Diagnostic services and Intervention Support Category, the award was given to Mrs. Renée Massé. Mrs. Massé is a Medical Imagery Specialist in Laval since 1993. First in CLSC and then at the Hospital, she worked in numerous contexts. She acts now as one of the three Chief Assistants in the Radiology Department, a team of over 100 technologists. Her role consists in ensuring quality control, security (of users as well as employees) and training. Her mandate is very diverse, going from promotion of hygiene in the department, to insuring safe transport for patients and care-takers.

She tells us that even though she is not in direct contact with patients anymore, she gets a lot of satisfaction from her colleagues' feedback. According to her, the best pay is now to help her colleagues find solutions and to contribute to the improvement of their work. A change at a time, a process at a time, she supports her peers by her understanding, her listening capacity and her great sense of humanity.

Mrs. Paquin and Mrs. Massé are just two examples of all the incredible people who work everyday at CISSS de Laval to take care of our own. Thank you so much!