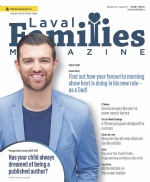 In The Latest Issue:
Latest Issue:
The Natural Heritage of ...
November: Runaway Preven...
10 Candles for the Pédal...
Meeting Marco Mr. Tam Tam

BY:
Emma Zanandrea
Issue 26
Q: What emotions do you feel when you begin to play the tam tam in front of a live audience?
A: I feel happiness, gratitude and gratefulness. I feel liberated and free. I feel that because the tam tam gives me a feeling that kind of takes over my body and makes me want to continue playing forever and ever.

Q: If you weren't a musician, what career path would you have chosen?
A: I am involved in a couple of businesses. The business aspect of the world always interested me. So, I guess in simpler words, I would be a businessman but without the music. You see, now I'm trying to combine both; it's a lot of fun.

Q: Tell me one of the most meaningful memories you have of you playing the tam tam as a child?
A: At 15 years old, I did my first club show in Montreal. That was one of the first public shows of Marco Mr. Tam Tam. Another memorable one was when I first came to Canada from Lebanon from the war, in 1991. I was 5 years old. We landed [in Canada] on March 4th, my birthday is March 7th, and the event happened on March 5th at an Arabic restaurant. There were around 300 people there. When I went up on stage, the band didn't want me there. They kept saying things like, "What are you doing? Why is he here? He's a kid!" I started to play and once they heard me, they wanted me to keep on playing. It was a proud moment.

Q: What made you choose the tam tam as an instrument?
A: Honestly, from the moment I was born, I believed very strongly in God and I'm saying that because I believe that everybody is born to do something. Everybody has a gift with some talent. Ever since I was 3 years old I remember tapping on Tupperwares; basically, any flat surface. I guess it came to me. It was just chosen for me.

Q: Did any of your close family members ever play an instrument that inspired you?
A: My mother played the piano and I always wanted to play the piano. I used to watch her play on the piano at my grandmother's house in Lebanon. So I always tried to play or make up something. She's practically the only one who has done anything musical in my family, from both sides. She inspired me to do a lot of stuff; music was a big part of it.

Q: What are you fondest musical memories?
A: In 2011, I did a show in Montreal in front of 100,000 people, alongside my good friend Rachid Badouri, who is one of the top comedians in the French world and I was doing the opening act. That was one of the very memorable things that will go with me forever.

Q: Who inspired you to become a musician?
A: For an artist inspiration, I would definitely say Michael Jackson. From outfits, to style, to music, to words and charisma. My wardrobe is very much inspired by him.

Q: How do you handle mistakes during your performance?
A: I try not to make mistakes. Most of the time it goes as planned. If I ever have to wing it, it always goes well. If it ever happens I pretend that it is part of the beat and I just continue on.

Q: What do you practice, exercises, new tunes, hard tunes, etc?
A: I don't really practice that much. We try to come up with new beats with my producer Paul Keys. He's my producer/DJ. He is an inspiration by himself; he's a musical genius.

Q: How often and for how long do you practice?
A: About 30- 45 minutes.

Q: Do you get nervous before a performance?
A: No, because I love performing so much. I think that the day I stop playing will be the day that I stop breathing. Basically, I want to perform for the rest of my life. It's such an experience being on stage. It sets you free and your mind is cleared of everything.

Q: Do you prefer playing at a concert, on the radio, on TV, etc?
A: On television, because it's a lot of fun. Especially when there is a live crowd watching. The energy is there, and you know that it's being broadcasted so that many people could see it.

Q: Which famous musicians have you learned from?
A: Carlos Santana because of the way he structures his music. Yanni because he is inspiring.

Q: Which famous musicians do you admire? Why?
A: DJ Khalid, Michael Jackson, Shakira and Puff Daddy.

Q: Tell me about any other instruments that you have played or tried out in the past.
A: Piano/keyboard because of my mother. I would love to play the saxophone. I love that instrument. The electric guitar I would definitely try.

Q: Are your wife and son musically inclined or not at all?
A: My wife loves music. She could keep a beat without getting lost. My son did his first performance last summer with me in front of 2 000 people, at the Armenian festival. He went on stage with full confidence in his "blinged out" jacket. He just blew my mind away when he went on there and just started playing.

Q: Describe anyone close to you who has musical interests or abilities?
A: Paul Keys and Elie. They are very talented and very close friends.

Q: Do you enjoy playing in front of larger groups or a small amount of people?
A: Definitely larger groups because more people get to enjoy my music and just have fun and dance. The bigger the event, the more I enjoy it.

Q: What advice would you give to a beginning musician who may be nervous?
A: Always believe in themselves and to always realize that what they're doing is going to pay off after. It is definitely worth the sacrifice because of practicing and putting effort into it. If they're nervous in front of a crowd, I would say for them to go to a happy place in their mind.