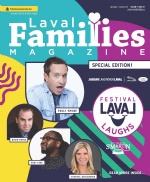 In The Latest Issue:
Latest Issue:
Laugh, Cheer & Celebrate...
It Starts with a Laugh…a...
30 Minute Hit is a Hit i...
El Sistema: An Inspiring Musical Program
BY:
Orchestre Symphonique de Laval
Issue 26
In Venezuela, some 700,000 youth have access to music year-round at no charge. Private lessons, symphony orchestra experience, transportation and meals – everything is funded by the State.

Venezuela's El Sistema program was founded by José-Antonio Abreu in 1975. Each year it provides free access to music for more than 700,000 Venezuelan youth – more often than not street kids from underprivileged neighbourhoods (close to 80%), many of whom develop into accomplished musicians. A select few, like Gustavo Dudamel, conductor of the Los Angeles Philharmonic and a regular guest on the world's largest stages, go on to become international classical music stars.

UNESCO has recognized El Sistema as a musical education program that can be implemented on a worldwide scale. More than 25 countries have adopted it, shaping it to suit their needs, and an estimated one million Venezuelan children are expected to benefit from the program by 2020. The idea is to give youth access to musical instruments and private lessons, along with a chance to play with an orchestra or chamber music ensemble, at zero cost.

Abreu was guided by the principal that making music as part of a group is an inalienable human right. The Simón Bolívar National Youth Orchestra of Venezuela is among the world's leading youth orchestras, with several recordings on Deutsche Grammophon –one of classical music's most prestigious labels – to its credit.

El Sistema's sole objective is not to produce stars, but rather to give everyone the same fundamental training and the self-confidence to make the most of it. That said, the cream – in the person of trumpeter Pacho Flores, for example – invariably rises to the top. Flores drew on his prodigious talent to win the top prize at several international competitions, including the Maurice André Trumpet Competition, the world's most renowned competition for that instrument. He has since led a thriving career as an international soloist. On March 14th, Flores will mark his first concert appearance in North America, performing alongside the Orchestre symphonique de Laval under the direction of Alain Trudel.

The El Sistema model comes as a breath of fresh air here in Canada, where music teaching, all too frequently, is struck from school programs, and where our orchestras, while strongly involved in their respective communities, are hamstrung by budget constraints. The benefits of the program will be on full display when trumpet titan Flores takes the stage.