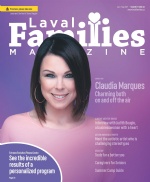 In The Latest Issue:
Latest Issue:
Judith Bougie: The Woman...
Spring in the City of La...
Claudia Marques: On and ...
Spring is Here at Last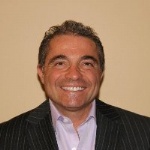 BY:
Luigi Morabito
Issue 27
When we think of the warmer weather on our doorstep, it's exciting to begin planning for our summer adventures…summer camp for the kids, family vacations and even fun events right here in Laval. Our Summer Camp Guide section always has plenty of helpful information for our readers; you might just discover something new!

Speaking of discoveries, our Cover Story profiles Marco Mr. Tam Tam, a Laval-based musician who is making a splash on the music scene locally and internationally with his catchy beats and big personality on stage. Learn how he became one of the most sought-after tam tam performers in Canada, and why tenacity in the music business is his middle name.

April is National Autism Awareness Month, and in this issue's Special Needs section, we're featuring an article called "Demystifying Asperger's Syndrome". Our readers can expect to learn more about the signs, symptoms and treatment of Asperger's Syndrome, as well as why some physicians feel that some attributes of Asperger's Syndrome are beneficial in certain workforce situations.

If you're looking for a great excuse to get back into shape this summer, look no further than the 300 km pour la VIE for the Regional Cancerology Program in Laval. Not only would you be participating in an athletic event for an excellent fund-raising cause, you would also benefit from pedaling through beautiful scenery between Laval and Trois-Rivières. All the details are on page 28.

If hearing health is a concern, be sure to check out the article on an amazing initiative called 1000 Screenings, a free hearing screening program organized by Clinique Bougie. Details are in our Health & Wellness section. What's more, this month we are featuring another fantastic health initiative for the hearing impaired as well as the visually impaired. On page 56, read about how Sylvain Noël is changing the entire experience of cultural and theatrical events for this clientele through new technological advancements.

Laval, From Past to Present
Beginning in this issue, we are proud to present our readers with a new series called Laval's History & Heritage. We start by taking readers on a journey to Laval's past, its historical beginnings, its early people, and in future issues we will read about how our city morphed into what it is today: the third largest city in our province.

From our family to yours, wishing you a happy and healthy spring season!