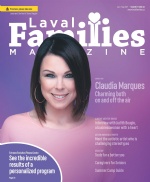 In The Latest Issue:
Latest Issue:
Judith Bougie: The Woman...
Spring in the City of La...
Claudia Marques: On and ...
A Small Team with a Big Heart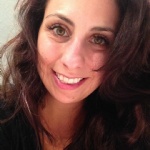 BY:
Lisa Cipriani
Issue 27
With over 6800 cases of missing children reported annually in Quebec, and over 40,000 cases reported annually across Canada, the Missing Children's Network operates year-round. From crisis intervention to safety and prevention, the organization, also known as Réseau Enfants-Retour, has its office in Montreal, but serves the entire region of Quebec.

"Our primary mandate is to help families search for their missing children; to support and provide crisis intervention," says Pina Arcamone, Director General, who has been with the organization for 24 years. "Our organization was created in 1985 to help find missing children and to help prevent others from going missing or falling victim to aggression or exploitation." Despite such a heavy mandate, the organization operates with only seven official staff members, including Arcamone, and the rest of the support comes from many volunteers and fundraising activities held annually.

Partners in Crisis Intervention
When a child is reported missing, law enforcement may contact the organization directly to receive assistance in getting information out about the case as soon as possible. No matter how the child went missing (kidnapping, runaway, etc.) Arcamone says that it's the first few hours after the child has gone missing that are the most crucial. "In many cases, we are able to assist in bringing the child home safely after a few hours or a few days," she says.

With the permeation of social media today, photos and descriptions of missing children can be seen by thousands of people more quickly than ever before, and according to Arcamone, this gives law enforcement, the organization and the families a quicker response time in disseminating information and updating it as the hours or days progress. "In a matter of seconds, we can inform an entire community that we are looking for a missing child."

While law enforcement takes to their role, the team at the Missing Children's Network will offer crisis intervention to the family. "Our role is not to investigate the disappearance of the child, but to assist law enforcement in getting the information out there while reassuring the families that we will be taking all the necessary steps to help them find their child," says Arcamone. Much of the crisis intervention is done over the phone, but when possible, staffers may meet with families in person. Depending on the duration of the missing child's case, the organization may pair the family up with another family who has already been through a similar experience, for an added layer of support and care.

Nearly 90 per cent of the cases reported annually both here and in Europe are of runaway youth aged 12-17. On average, however, 15 per cent of missing children cases may be due to parental abduction, and less than one per cent are due to stranger abduction.

Education & Prevention
Over the years, the organization has expanded its prevention programs and activities to include several workshops for students in the school setting or in other educational environments, such as summer camps.

Arcamone, whose previous career was in education, was one of the first to spearhead the Network's education and prevention programs in the early 2000's. Today, the organization regularly gives safety and prevention workshops to youth across Montreal and even Laval.

Though social media can be helpful in locating missing youth, it can be a dangerous tool for potential abductors to use against vulnerable youth and teens online.

"This is where prevention really plays a significant role for kids, teens, and their families," says Arcamone. "We have to keep that dialogue going on throughout the year, not just when there's an attempted abduction or an emergency. We want to empower kids to be able to identify risky situations." The Network's newest program, SHINE, attempts to do just that. Designed for students in grade 5 and 6 as well as secondary I, the program is 45 to 75 minutes in length, and can be taught in the school setting.

Events and Support
May 25th is International Missing Children's Day, and organizations around the world will be hosting awareness campaigns, including activities in Montreal and Laval.

There are also several fundraising events such as the annual Walk or Run for the Missing, happening on April 21st-22nd at Parc Jean-Drapeau and the 12th Annual Golf Classic in August. Last year, the golf event alone raised more than $95,000 for family assistance services and programs. To find out more or to donate to the cause, visit missingchildrensnetwork.ngo.