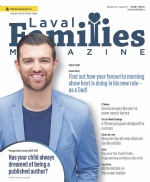 In The Latest Issue:
Latest Issue:
The Natural Heritage of ...
November: Runaway Preven...
10 Candles for the Pédal...
Getting to Know Markus Eisenschmid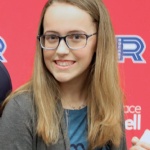 BY:
Geneviève Alexander
Issue 27
Our Young Authors Contest winner for this issue is Geneviève Alexander, Secondary II student at Rosemere High School. Geneviève had the opportunity to sit down with Markus Eisenschmid from Le Rocket de Laval, for a one-on-one interview.

Q: When changing from a German to Canadian hockey team, did you find any differences in the coaching, attitude of the players, the culture, etc.?
A: Yeah, definitely, I mean coaching here is way more advanced, Canada is way more progressed in hockey than Germany and the systems are different. I'd say the player culture is different too because when I came over the first time, I felt more like in a family. I always played in my home town in Germany with my childhood friends, so it's different because when I came to Juniors, I was around my teammates 24/7 and I really enjoyed that.

Q: Were there any major changes that you noticed when moving from Newfoundland to Laval?
A: Yeah, the biggest one is probably the weather. I mean, I see the sun here once in awhile which is nice waking up and the sun shines into my apartment, St. John's was always rainy, windy, and cold there. It gets cold here too but it's just a different kind of cold. That is probably the biggest thing.

Q: For your continued improvement as a hockey player, what are your goals for the rest of the season?
A: I just want to keep establishing myself, just to play hard, do my job, focus on what I have to do, obviously stay healthy because I've had issues with that in the past and just to have a strong finish to the season and hopefully help the team to make the playoffs.

Q: How old were you when you were first interested in playing hockey?
A: I think I was five years old. I started skating when I was three with my sisters. Our parents just wanted us to get on the ice, exercise, do something, and then when it came to the age when we were old enough to take a stick in our hand, they asked us if we wanted to do it. Our parents said, "Go ahead, just put a stick in his hand" and we really enjoyed it. Around the age of five or six years old I really enjoyed doing it and was interested in it too.

Q: Have you ever had any experiences in Canada before playing on a Canadian team?
A: Yes. I did play in the world hockey challenge U17 in Windsor and that was two years before I came over. It was with the German national team and I really enjoyed it. I already had the plan of coming over to Canada then, it was like a long-term plan that I had, it was like a dream, but I'm actually glad it worked out the way it did.

Q: What is your typical training day schedule?
A: So in the summer I wake up in the morning, and I usually get up at like, 7:30-8 o'clock, make myself breakfast, try to go to the gym at 9:00, work out for two hours, then I go home, have lunch, maybe have a nap or do something with friends and then at night I go back to the gym and do cardio, and that is usually for a summer day. Later in the summer I start skating after my work out in the morning and I'd skip the cardio at night, but in Germany, since there's limited ice surfaces and arenas that don't really carry the ice in the summer, I can't skate as much, so I go to skate in Minnesota. Now [in hockey season], it depends if it's a game day or if it's a just a practice day or a post-game day because our practice time varies from 10-12 so usually I'm at the rink two hours before practice, we have practice here, we work out before practice, and then we hop on the ice.

Q: Do you get days off? If so, what do you do on those days?
A: We do get days off, usually it's one day off a week. I try to relax, I mean, we have a tough schedule, so I try to take the time to relax as much as I can. There are guys around here, my teammates, that have families or wives, or girlfriends; they always spend their days off with them but the rest of the guys, we usually get together, we hang out, we go to the movies, we watch football together… most of the days off are Sundays so football's big…that's mostly it.

Q: When you came to Canada to play hockey, did you already speak English and French or did you have to learn them once you arrived?
A: I did speak English; my French was maybe a little better then it is right now, actually it got better now since I'm here [in Laval], but I had it [French lessons] for six years in school. I had English for seven years in school, and my English was pretty good because I thought English was easier to learn for me, so when I came, I understood almost everything, it was just tough to go over the hurdle to start speaking it and being comfortable around everything. So I'd say I was pretty good in English, right I'm still shy speaking French. But whenever I go to get groceries or something, all the cashiers speak to me in French and I just answer in English [laughs].

Q: How did you feel when coming back from your concussion injury?
A: It was tough. First, I was a little concerned, obviously, because a concussion is never easy, but I was relieved because I was over it. I wanted to play hockey. I wasn't in a good mood when I wasn't playing, and I was just sick of feeling bad all the time, so when I came back, I was just happy to be back on the ice, and being around my teammates because, especially with a concussion, there's nothing you can really do, you have ups and downs, you have good days, you think you can play, and then all of a sudden the next day is terrible again. I was just happy being around, feeling like I belong to the team again; it was great.

Q: If you had your own hockey team, what country would it play for and what would be the name of this team?
A: Probably, got to be honest, it would play for Germany, I like my country. The name, can it be Team Germany, or do I have to make something up? Like Rocket Germany? [laughs]

Q: How long did you live in Germany before you moved to Canada?
A: Until I was eighteen. I was born and raised there, I went to high school in my home town, I played hockey in my home town…I was fortunate enough that my home town had a good hockey program, and as soon as I was old enough to play pro hockey I played in the second division there as well, and when I graduated high school at eighteen years old, I decided to move to Canada.

Q: Besides Canada, have you ever been anywhere else in North America?
A: Well we travel to the States a lot to play games there, I played out west, which is still Canada, but I've been basically all over North America. Hockey brings me to places and I enjoy that.

Q: If you were not a hockey player, what other job would you want to have?
A: I'd definitely want to be an athlete, I think, but other sports…I do enjoy tennis, but if I can't be an athlete, I'd probably want to try to be a pilot, because I like travelling. I like seeing places. I have a friend who is a pilot and he always shows me really cool pictures.