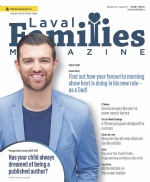 In The Latest Issue:
Latest Issue:
The Natural Heritage of ...
November: Runaway Preven...
10 Candles for the Pédal...
Successful First Edition of the Summer Camp Expo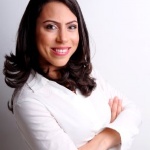 BY:
Tina Quintanilla
Issue 27
On Sunday, February 11th, Laval Families Magazine welcomed its first edition of the Summer Camp Expo.

The event took place at Embassy Plaza where booths were set up to introduce families to the many camps and services offered to entertain children during their summer vacations.

Special Guest and Camp Advocate
Catherine Verdon-Diamond, Weather and Traffic Specialist at Breakfast Television Montreal was the special guest at the Expo. She is a proud supporter of our Summer Camp Expo initiative as she is also a parent of two boys living in Laval. She speaks about her own camp experiences with a longing nostalgia. "It was really fun! At the beginning, I was scared to leave my parents. I was anxious because I had no idea how I was going to survive two weeks with people that I didn't know," says Verdon-Diamond. "After just two weeks of camp, I didn't want to go home because I was having so much fun! It was a great experience to meet new people, create lasting memories and be surrounded by nature."

Variety of Kiosks and Displays
The Expo featured approximately 30 kiosks. Each kiosk displayed their own theme and charm. The Expo was staffed with knowledgeable members of each camp and service catering to summer and family activities. Amongst the participants, there was even a camp catering to children with special needs. For example, Camp GymnO Laval offers a sleep away camp option to entertain adolescents from 14 years old and up. Indeed, there was a camp available to suit every family's needs.

There was even an option to attend a religious camp. Camp Livingstone, which is 15 minutes outside of Magog, is a great opportunity for children to be immersed in a Christian inspired environment. The goal of this camp is to engage the children in activities that help build confidence and self-esteem. There were also athletic camps present. Passion Soccer caters to your little athlete. Soccer camp is a great way to get your children moving as well as an opportunity to learn new skills and excel with the aid of Passion Soccer's enthusiastic monitors and coaches.

For children who enjoy aquatic activities, there is even a surf camp available! Maeva Surf camp offers its participants the chance to practice jumping, climbing and exploring on a surf board in a tropical environment.

Parc de la Rivière-des-Mille-Îles is an excellent choice for those who want to be immersed in nature. Their site compliments many educational and ecological activities. For family summer outings, there is also the Parc Aquatique Atlantide. It is the biggest aquatic park in Canada for children of all ages. Their camp features a magic castle, a haunted house, shows, family campgrounds, and the renowned Atlantide Day Camp. Tech savvy individuals can enjoy the amusement centre Les Lapins Crétins. This centre offers activities that can be enjoyed by all members of the family.

The Expo was an engaging affair for families as well as for networking. The venue was inviting and informative. There was even a section reserved as a play area courtesy of some camps. The Robotics camp offered Lego tables where children had a chance to be creative. Camp Laurus set up an arts and crafts table. Camp Laurus is a unique camp which caters particularly to families with younger children. Laurus also accommodates participation for children as young as three years old. Parents have peace of mind knowing that their children are having fun in an environment that is safe, sheltered and educational. This camp differs from others by allowing the activities to come to their location, rather than sending the children offsite.

Groupe Kloda set up two huge inflatables for children to jump on. The children could run around and play under adult supervision.

Recommended by Parents
Throughout the Expo, parents attending expressed their positive opinions and comments regarding the venue, the information and kiosks present. The fact that all the camps could gather at one location made it easier for parents to learn more about camps and services that may cater to their children's interests.

Verdon-Diamond offers some advice to parents when it comes to making a camp selection. "I like to choose a camp that my kids can just let go and have fun," she says. "I want them to do a lot of physical activities such as sports, especially outdoors. It is extremely important for me that my children spend as much time outside as possible."

Lasting Impressions
Verdon-Diamond leaves us with her lasting impressions on the Expo. "As a first edition of many more to come, it is an event that I can see just getting bigger and bigger. It is so convenient to provide parents with an event where they can come inquire and research various alternatives for their children's summer activities," she says. "I was pleasantly surprised to see that there is a camp for every theme and passion."

If you missed the Expo, make a note on your calendar to follow up with next year's event. There is a camp option for every need!