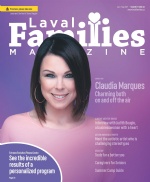 In The Latest Issue:
Latest Issue:
Judith Bougie: The Woman...
Spring in the City of La...
Claudia Marques: On and ...
Collaboration and support: at the Heart of Our Priorities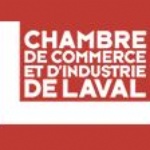 BY:
CCIL - Chambre de commerce et d'industrie de Laval
Issue 28
This issue, the CCIL interviews Josée Dufour, President of Groupe Axiomatech.

Ms. Dufour, tell us about yourself.
I am the mother of four children (three boys and a girl), who are 20, 18, 15 and 11 years old. I have a Bachelor of Science degree in Microbiology and a Masters degree in Bioethics. I worked for over 15 years in the pharmaceutical industry before starting my own company in project management and in building services engineering management with my spouse. I simply love downhill skiing, biking and the outdoors, and I spend my summers camping. A native of Saguenay, I moved to Montreal to study over 25 years ago.

As an entrepreneur with a family life, a social life and a demanding career, what does "community" mean?
Community is important. A great circle of friends, neighbours you can count on and employees that help each other; these are essential to success. In our company, we try to support each other, and help each other out with children and family. For instance, the office is near my children's school and my employees sometimes drive the youngest to her language therapy classes if we are on a construction site or cannot make it. In return, we have set up a flexible scheduling system for our employees to accommodate the needs of families with young children or employees who support their parents. Helping each other out and supporting each other: that is at the very heart or our priorities.

In 2018, in the digital era, how do you foresee the growth of the Laval business community in the next 20 years?
New technologies are essential for the growth and visibility of businesses. They allow greater flexibility in scheduling, management at a distance and the possibility of reconciling work and family, but especially the ability to grow while optimizing the return of each resource. The digital era, combined with good business processes, has helped us grow and be competitive in all of Canada by facilitating transactions and communications with our suppliers. In my opinion, in the coming years, the digital era will allow beautiful businesses to set up in Laval and from there, manage their operations globally.

The Chambre de commerce et d'industrie de Laval has existed for the past 50 years. What does your involvement in the CCIL mean to you?
When you give, you receive in return. Involvement is essential to the sustainability of a strong business community. Being familiar with the different business in the area and developing local partnerships and strong relationship with these industries allows healthy and constant local economic growth.