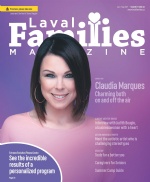 In The Latest Issue:
Latest Issue:
Judith Bougie: The Woman...
Spring in the City of La...
Claudia Marques: On and ...
In the City Series: Educating Girls and their Parents

BY:
Holly Potter
Issue 29
Centrally located between McGill and Concordia universities, for the past 130 years Trafalgar School has been preparing young women for the future. Now, a unique new program opens their doors to younger girls – and their parents.

Trafalgar School for Girls launched their In the City Signature Series with great success last year. After receiving much positive feedback, Trafalgar has decided to continue the event this upcoming year, as well.

A high school for girls from grades 7 through 11, with this series Trafalgar extends the innovative programming it provides its students to pre-teens in grades 4, 5, and 6.

Day-long workshops held on Sundays throughout the year allow participants to delve into learning experiences in different domains, including fine arts, science, and leadership.

Over the course of the Fine Arts day last year, young girls had opportunities to make music together, challenge themselves in improvisation, and create fabulous prints, all under the expert guidance of Trafalgar's music, drama, and art teachers. At another workshop, girls learned to jump into leadership through goal setting, skills inventory, and communications. Over the course of a full day of scientific discovery, keen and curious girls tinkered, problem-solved, and then designed their way to a better understanding of the transformative powers of science.

These varied, deep learning experiences mirror what Traf teachers call the "Core Four," the principles the school promotes on a daily basis: being open, being curious, being collaborative, and being compassionate.

Guided by these principles, organizers designed the Smart Parenting In the City workshops at the school, open to parents of teens and preteens. From a "how-to" guide to the teenage brain, to a healthy approach to fitness, nutrition, and body image, these presentations by experts in their fields provide an enlightening educational experience for adults. Some of last year's attendees praised it for being "based on research, but so practical." "Thank you, now Traf is educating me as well as my daughter," says one parent.

Thanks to overwhelming positive feedback, Trafalgar School will reprise some of the themes from last year's workshops, and introduce several new ones, for both girls and parents. For the full list of topics, speakers, and dates, visit: Trafalgar.qc.ca.