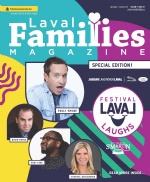 In The Latest Issue:
Latest Issue:
Laugh, Cheer & Celebrate...
It Starts with a Laugh…a...
30 Minute Hit is a Hit i...
Rejuvenation and Innovation in Education
A Conversation with Stephanie Vucko, Director General of the Sir Wilfrid Laurier School Board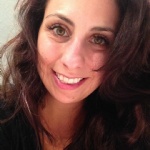 BY:
Lisa Cipriani
Issue 4
If you've ever played a game of Monopoly, you know a bit about budgeting, paying for repairs, strategizing, overcrowding, decision-making when the going gets tough (what to keep and what to let go) and ultimately having to deal with game-changing events like "Chance" and "Community Chest" cards. The Parker Brothers have got nothing on the new Director General of Sir Wilfrid Laurier School Board, who deals with all of that and more on a daily basis.

37 schools, 5 centres, 15 000 students, 2000 employees…ONE leader. Meet Stephanie Vucko.

As the new leader of SWLSB, Stephanie has come a long way from her teenage years when she worked as a camp counselor and taught a local art class to solidify her decision of making her career in education. She explored other studies, but always found her way back to teaching. As a published author of over 20 works and a seasoned teacher who has worked with Pre-K through to adult learners, Vucko is a firm believer that innovation in education is a must in the 21st century. Before and after doing her Master of Arts in Educational Technology, Vucko spent many years training education professionals across the province and internationally, spearheading cutting-edge pedagogical approaches that make learning relevant to today's student.

Despite her penchant for integrating technology into education, Vucko is quick to point out that technology in the classroom has to be useful and pedagogically sound. "Education is a careful balancing act. It's like a pendulum, and must always be in motion to keep the balance. It's important to keep that pendulum moving. When we get stuck too far on one side or the other, it is our job as educators to give it a push to keep the momentum going," explains Vucko, with a knowing smile. "This balance ensures that you reach all learners, wherever they are in the swing." Vucko explains that this allows SWLSB students learn to be global learners in today's world.

As Director General (DG) of the third largest English school board in Quebec, Vucko's primary role is to implement the mandates of the Council of Commissioners, a group of elected officials that represent the board's vast territory: Laval, Lanaudière and Laurentides. The Council is responsible for a lot of the tough decision-making surrounding the management of the school board, the annual budget, organizational structure and zoning issues. "The Council of Commissioners is very supportive and asks good, critical questions. We're working collaboratively toward continued responsible and sound governance of a public school board. I feel very supported by Council…I'm very fortunate to have a Council who cares and is willing to evolve and be innovative in the best interest of our students and staff," says Vucko.

One of Vucko's top priorities in 2013-2014 will be to make sure all school administrators and her directorate team are well supported with access to professional development opportunities and more streamlined communication. "As a Director General, you have to build relationships and encourage people to build relationships and interdependencies. You have to seek partnerships which are so key for our students," says Vucko. "You have to be able to support and trust the team you have, and make sure they have the tools to do the best they can so they have the freedom to go do it."

That is no small feat given the constant budget cutbacks at the ministry level. Over the past several years, the school board has dealt with significant cutbacks of 5.4 million dollars, with an additional cutback of 4.65 million for the 2013-2014 school year. Despite budget challenges, overcrowded schools and the necessity of investing in resources that ensure students graduate, SWLSB has the 4th highest graduation rate in the province—82%. Locally, the board's graduation rate is even more exceptional (see Inset 1).

In keeping with the spirit of rejuvenation and innovation, this school year will see more sophisticated communication systems in all of the board's schools. Every school will be a wireless community by Fall 2013, and each school administrator will be equipped with a video phone for video conferencing as well as an online space for virtual meetings. This will allow administrators to be present at their school and still participate in key meetings with school board officials and colleagues, and minimize travelling to the administrative centre for meetings.

Much of the new focus of the board's five-year Strategic Plan (2012-2017) surrounds student success and early intervention of at-risk students. "We have a very student-centered approach here," says Vucko. "We respect our individual schools and their cultures. We listen to our schools and what they need, and then we adjust."

The school board has adopted a "Cradle to Grave" philosophy when it comes to learning and the notion of the whole learner. "Learning is developmental. It begins in the home and it ends when we end," explains Vucko. "Learning is not limited to the classroom—it happens everywhere—this is the essence of the Quebec Education Program."

Vucko mentions that several new initiatives will take place starting Fall 2013 to offer more individual intervention for students at the primary and secondary levels. Solid research and case study profiles will be built in order to continue to improve student services in the future. A pilot project called "Bring Your Own Device" will also take place in a few schools this year, allowing students to bring in a device (laptop, tablet, etc.) and it will be worked into the curriculum as an assistive tool. Vucko feels that allowing students to use their device in a way that is relevant to the core curriculum will encourage participation and student engagement.

"The gap between home and school has to be narrowed over the next couple of years, particularly with the advent of a lot of the technologies we have," says Vucko. "Otherwise, student engagement is going to suffer. If students aren't engaged, they aren't willing to be active learners." Vucko points out that this doesn't mean that students will be on devices all day long without structure or limitations—internet security will be ensured—but rather that the device will be used to enhance an assignment or projects the students are already working on. For example, if a student uses an I-Pad at home to play games, the I-Pad can be used at school for brainstorming or research.

"We have to engage students in a way that is pedagogically sound—with the tools they already use—in a way that they are already naturally engaged," explains Vucko. "Technology is no longer an option, but a necessity for today's millennial students. It is the way they think, do, produce and communicate. Research has shown that today's learners' brains are wired differently than previous generations—to ignore this is a disservice and detriment to our future—our children."

SWLSB, along with all other boards in the province, has increased its efforts in anti-bullying awareness, which will continue in the future with the goal of making schools a welcoming and safe environment for all students. Literacy success has been a long-time focus of SWLSB, and the efforts have been fruitful, with excellent results in English Language Arts. As a whole, the school board will now be targeting Math results, focusing on hands-on learning and research-based practices.

Another of the board's most recent successes has been growing vocational programs in the adult education sector. This past year, the board graduated 100 per cent of its carpentry students—a rare home run in the education industry.

With such a vast territory of schools and objectives to meet, the sheer volume of responsibility and management required to be a DG is enough to leave one's head spinning. This doesn't seem to faze Vucko in the least, as she is clearly a team player who places a high value on the work of all departments at the board and individual school staff, always keeping her eye on what's best for students while remaining fiscally responsible with budgetary restraints.

Vucko is now in a position where she gets numerous requests for support for new pedagogy and innovative approaches to learning. "I think a Director General of the 21st century has to be a risk-taker. If you don't take risks you never evolve or get anywhere," says Vucko. Even her e-mail signature reads: "Progress would be impossible if we always did things the way we always have." Vucko emphasizes that while innovation is important, "…we have to be accountable and make sure everyone is accountable for student success, regardless of the means to this end."

For Vucko, a married mother of two young children, this also involves being accountable to her own family, who have had to make several adjustments due to her new workload, which often involves her working late into the evening. In fact, Vucko's children have reversed their entire schedule in order to do the 'normal' family things most people do in the evenings: complete homework, play games, eat together, read stories, etc. In Vucko's household, they do all of these things with the early morning light. "They just wanted 'mama' time, so we've created a new rhythm in the family—they're amazing," says Vucko.

A new rhythm and a refreshed flavour at SWLSB are on the menu now that Vucko is leading. "We're at the point of rejuvenation. There's always a bit of hesitancy in the face of change, and this is normal, but there's also a pending excitement about taking this big step to where we're going. I'm very excited," says Vucko, her voice rising with the passion of a pedagogue. "We have an incredible team here."

It is from this vantage point that Vucko will continue to support the administrators, teachers and management teams of SWLSB, ensuring that innovative, relevant pedagogy remain the driving force toward student success.

With a clear, reassuring message for parents, Vucko says with unfaltering confidence: "We're one of the few English boards that have potential for growth in the upcoming years, and that's a great place to be…Our students come out bilingual, and they learn to be global citizens. With an 82% graduation rate, why would you even consider going elsewhere?"

As a testament to her dedication to solid pedagogy and student success, when asked by new acquaintances what she does for a living, Vucko humbly replies, "I am a teacher, but I am currently working in the role of a Director General."

Do not stop, do not pass GO. Go directly to SWLSB. Park Place has been replaced.