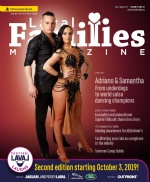 In The Latest Issue:
Latest Issue:
Another Exciting Summer ...
One Step at a Time
The Second Edition of Fe...
Working Towards Even Better Health Services in Laval

BY:
Fondation Cité de la Santé
Issue 31
The Fondation Cité de la Santé ran a large campaign last November and December, in collaboration with the communications firm, Compagnie et Cie. The goal was to raise awareness about the healthcare and social services needs right here in our city.

Services Available in Laval
Centre intégré de santé et de services sociaux (CISSS) de Laval currently serves a population of 500,000, which includes both Laval residents and many residents of the Greater Montreal area. With 32 facilities, including the Hôpital de la Cité-de-la-Santé, the Jewish Rehabilitation Hospital, five CHSLDs, six CLSCs, the Child and Youth Protection Centre and several others, the CISSS de Laval strives to better health and social services across the board. From the beginning of life to end-of-life care, we accompany our people, treat both big and small problems, care for their vulnerability and celebrate their victories with them.

Some recent data:
• 10,000 employees and doctors at the CISSS de Laval
• 4,000 births a year at the Hôpital de la Cité-de-la-Santé
• 155,525 psychosocial interventions per year
• 100,000 emergency department visits per year
• 17,000 surgeries per year
• 18,391 people assisted at home per year

Laval's Healthcare and Social Services Needs
The demographic projections from the Institut de la statistique du Québec indicate the number of Laval residents could rise to more than 530,000 by 2036. When you combine this projected growth – which is more than the projected growth for the province of Quebec as a whole – with an aging population, a rapid increase in immigration and socio-economic disparities across the city, that growth is astronomical. Given the magnitude of these challenges, the CISSS de Laval must innovate and constantly improve its care services to be able to meet the needs of all citizens now and in the future. This is why the Fondation Cité de la Santé contributes to CISSS, thanks to the generosity that thousands of people and businesses show each year.

The Fondation Cité de la Santé Needs Your Support
The Fondation Cité de la Santé and the CISSS de Laval have flagged nearly $1.5 million in urgent needs to be fulfilled by 2020. These projects include the purchase of medical equipment, support for vulnerable youth, renovating installations and improving activities for people living with a developmental disability and our wellness programs for seniors.

Contribute today by visiting fondationcitedelasante.com or by taking part in our fundraising activities, including the 300KM for Life!