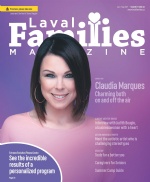 In The Latest Issue:
Latest Issue:
Judith Bougie: The Woman...
Spring in the City of La...
Claudia Marques: On and ...
Safeguarding Children from Car Accidents

BY:
Subaru de Laval
Issue 6
Parents can play a life-saving role in protecting children from accidents. Statistics show that motor vehicle related injuries are a leading cause of death among children in North America. However, many of these accidents and deaths can be prevented if parents are alert and practice caution.

Keep your children safe and secure inside the car

Use the right car seat for the child's height, weight and development.
Be sure to secure the child correctly. Make sure harness straps are flat and snug. Always use a tether strap with a forward-facing child car seat.
Every child car seat and booster seat sold in Canada has an expiry or useful life date on it, and should not be used if it has passed the date.
Power windows can be dangerous. Use the window lockout switch, if your car has one.
Prevent an accident by never leaving a child alone in the car.
Do not leave the keys in your vehicle.
Do not leave the car running inside your garage with your child inside. The carbon monoxide fumes are deadly and can suffocate your child.
Prevent accidents in your driveway
Make sure the vehicle is on flat surface.
Always pull up the emergency brake while the vehicle is parked.
Make sure your car has the brake transmission shift interlock feature that works in all key positions.
Make sure there are NO objects or persons in front or behind your car.
Do not turn the radio on while backing up. Otherwise, you won't be able to hear any outside noises.
Heighten your awareness when backing up. If you have a large vehicle such an SUV, check behind the car before you get in.
Back up slowly and pay attention to your mirrors.
Remember, teach your children that "parked" cars might move and they shouldn't play behind or around them.
Even when driving forward out of driveway, be extremely careful. All vehicles have a blind zone (the area in front of a vehicle where you can't see from the driver's seat).
Know where your children are.
Keep vehicles locked at all times whether they're in the garage or driveway.