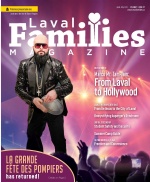 In The Latest Issue:
Latest Issue:
La Grande Fête des Pompi...
Spring is Here at Last
Marco Mr. Tam-Tam: From ...
Grenville Elementary Home and School Association

BY:
Kellie Drouin, Greenville Elementary Home and School President
Issue 7
Our Home and School Association is a non-profit volunteer organization dedicated to enhancing the education and general well-being of children and youth. We promote the involvement of parents, students, educators and our community at large.

Grenville Elementary fundraises so much that not one student has to pay for transportation fees to any of their field trips. We also have money left over to do special activities at our school and sometimes find the extra funds to buy new technology for our classrooms.
Our school year started off with our annual corn boil, which turned out to be a huge success. It is such a great way to start off the school year. All the kids were lined up to get their corn on the cob in our beautiful, new outdoor classroom. Everyone enjoyed, and with smiling faces, they also offered a lending hand.

Last year we held a raffle to win a weekend get-away at Fiddler Ridge Resorts. The money raised from this raffle was going towards the Physical Education activities for our students. Home and School decided to hire someone from our community, who had recently received her Yoga license, to teach our students the benefits of stretching and meditating. We have had such positive feedback from our students, parents, and teachers that we are considering doing it again in the New Year.

Home and School also fundraises to make healthy hot lunches for our students. Doing so also gives Mom and Dad a respite from the lunch-making routine. The funds from our hot lunches go towards special events such as our Halloween Party. We started a Haunted House Committee with our 5th and 6th graders and it turned out to be a successful haunting. We even had our School Principal, Nancy Bennett, screaming and clutching another teacher while walking through our haunted library.

Home and School has also been very busy with weeding, cutting down dried perennials and planting spring and summer bulbs in our outdoor butterfly gardens. The students are excited and looking forward to seeing how many butterflies and different insects come to our gardens next spring. We intend to plant pumpkin and sunflower seeds at the end of the school year which will enable us to harvest them in the fall of 2014.

Some upcoming events at Home and School include our annual Craft Fair that displays the work of over 40 arts and craft retailers, the Scholastic Book Fair, the Annual Holiday Brunch, and of course, our Student Calendars which make such a great present for Grandma and Grandpa and other members of the family.

Joining our Home and School this year has turned out to be very pleasant and satisfying. Meeting new people in our community, starting new friendships, and helping our students achieve their goals, has really given me a better perspective on volunteer work. I'm looking forward to 2014!