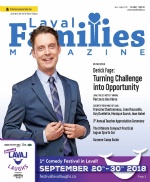 In The Latest Issue:
Latest Issue:
Summer in the City
Derick Fage: Turning Cha...
Sneaky Ways to Get Your ...
TERRY FOX SCHOOL - STUDENTS CREATE PARC PK SUBBAN

BY:
Claude Picard, Vice-Principal, Terry Fox Elementary School (SWLSB)
Parking(Day) is an event celebrated annually around the world every September 19th. The purpose of this day is to reimagine the world around us by converting parking spots into spaces that focus on viewing the environment in which we live differently. Artists, students and designers from cities across the planet participate in this competition.

This year Team Terry Fox Elementary School in Laval (Sir Wilfrid Laurier School Board) decided to create a unique and very innovative entry. In taking the challenge, these young bright minds decided to plan the conversion of a parking space in front of their school into a mini Montreal Canadiens skating rink to play hockey on. The design, when completed, would be named Parc PK Subban in honour of the hockey team's young superstar player.

Students began by drawing the skating rink and positioning the appropriate zones, creases and lines on it. Mathematical and scientific concepts learned in school were applied to their renderings. Scale, measurement, ratio, textures, calculations and shapes came to life in this life-like project. Student Elizabeth Woo created a stellar template for the team and William Turchet discussed with his fellows how these plans would best be realized.

The rink in plastic was attached to gym mats, a background panel of images of PK Subban was created and an adjacent green space was added. The students were able to play hockey on it with their mini equipment! The project took approximately 15 hours of after-school work to complete.

Beyond the academic rigour involved in creating such a space, the students honed their collaborative working skills and learned how to cope with the challenge of meeting deadlines. The students were extremely motivated by the project and were judged on September 16th by three professional judges. They gave a presentation in French explaining their creation and the challenges in designing it. Much to their delight, the Terry Fox Team placed first out of 31 entries and thanked the judges for showing such an enthusiastic interest in their project.