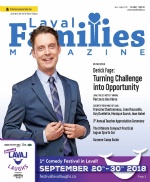 In The Latest Issue:
Latest Issue:
Summer in the City
Derick Fage: Turning Cha...
Sneaky Ways to Get Your ...
Oziano Migliozzi –A Resilient Boy That Beat All Odds

BY:
Patria and Emilio Migliozzi
Issue 13
Ever since Oziano was born alongside his twin sister Dascha, we noticed there was something different about our boy; he wasn't reaching his milestones as quickly as his twin sister. This prompted us to seek medical advice very early on during Oziano's infancy.

Followed by a battery of medical tests, we discovered that our beloved son was diagnosed with two incurable diseases. Needless to say, it was heartbreaking. Our thoughts from that moment on went out to all parents who endured the same type of distressing news. Your life changes in the blink of an eye and you can never be prepared for it. However, you learn to adjust and accept, and we did just that with prayer and lots of love.

Sickle-Beta Thalassemia is a type of anemia that attacks the red blood cells and causes blood clots in our vessels to form which leads to inexplicable excruciating pain. For the first ten years of our son's life, living with this disease, our family spent countless amount of time running to the emergency room seeking treatment to alleviate Oziano's pain. Morphine helped diminish the pain, but he also had to endure all the blood transfusions he required at times because his blood count was so dangerously low. In addition to his frail state, the doctors noticed his spleen was six times larger than the average size. Because of his young age at the time, doctors were reluctant to operate to remove it. But, by the age of ten, doctors at Montreal Children's Hospital finally decided to extract the spleen, which thank God resulted in less visits to the emergency room and a greater quality of life for our son(*).

However, our story does not end here. Sadly, besides his anemic condition, our brave son was faced with yet another incurable disorder. We found out our boy was born with Williams Syndrome (WS) which is characterized by the deletion of genetic components from chromosome seven. Children with this inherent problem have a serious developmental disorder. Williams Syndrome affects 7500 to 20000 children worldwide. It results in learning disorders, speech delays, a lack of motor skills and other physical issues, such as heart disease and degenerating blood vessels. Simple things in life which we usually take for granted were now going to be a huge challenge for our son.

Due to the WS, Oziano is considered a special needs child. Since his birth, besides having to struggle with the usual challenges that are part of growing up and developing as a child, our son will never have the opportunity to do what most kids are capable of doing with ease. As a toddler, it took him twice the amount of time to develop the ability to walk. Speaking was yet another challenge, since he was not capable of saying a three-word sentence as opposed to most children his age. William's Syndrome is a devastating disease that besides rendering its victims unable to develop their full potential intellectually, it is well known that in their adult years they are prone to severe depression.

Thirteen years and counting since the discovery of our son's conditions and with the help of his sisters, Vanessa and Dascha, Oziano continues to live every day to its fullest, enjoying life's simple pleasures. Even though the journey that started since January 9, 2001 has not always been easy, we've persevered through prayers. We are fortunate and blessed that the Lord sent us this special boy. Contrary to most disabilities that make connecting with your child difficult, children with Williams Syndrome tend to be social, friendly and endearing.

While our fears for his future mingle in the back of our minds, we live one day at the time. Oziano has brought our family great joy that no words can describe. He has always been able to light up a room with his warm and friendly personality. No matter the situation, whether he understands or not, Oziano continues to smile and bring happiness to those around him be it at home, at school or anywhere he goes.

Having a child with WS as a member of a family, it's a blessing even with the daily struggles; we wouldn't have it any other way. Every family has obstacles to overcome; we've found a way to tackle ours. Strangely enough, that deletion of genetic material brings another dimension to our family. Our son inspires us to appreciate everything in life and all the things we take for granted.

Today, thanks to Mother Teresa's high school teachers, Oziano learned to use and to play with his iPad constantly viewing his favorite videos and games: the Power Rangers, Skylander Giants and so many more.

Our family is thankful for the opportunity to have shared our story. We need to continue supporting and helping our communities, our hospitals and all the resources that come to our aid whenever and wherever we need them. We also encourage people to donate blood because it is a vital mean for survival not only kids with blood disorders, but for adults and elderly as well.

On another note, as an English speaking family, Bill 101 did not give us the opportunity to send our kids to English school. However, let it be known to all parents, that having a child with learning disabilities allows you to send his or her siblings to either French or English school of your choice. We chose Sir Wilfrid Laurier for Oziano because they had the best program for children with learning disabilities in this city and since Bill 101 does not apply in this case, we decided to send his siblings to the Sir Wilfrid Laurier schools.

Our family is seriously considering starting a foundation to help kids with learning disabilities. Should you feel compelled to help, please do not hesitate to let us know by contacting us at Laval Families.

(*) Our sincere thanks to Oziano's pediatrician, Dr. P. Rossy; his hematologist, Dr. S. Abish; Dr. M. Mitchell; his surgeon, Dr. S. Emil and all the dedicated staff at the Montreal Children's Hospital.