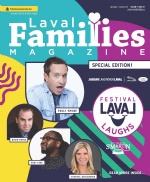 In The Latest Issue:
Latest Issue:
Laugh, Cheer & Celebrate...
It Starts with a Laugh…a...
30 Minute Hit is a Hit i...
Rosemere Curling Club

BY:
Susan O'Keeffe
Issue 13
The Rosemere Curling Club was founded in 1956 with the construction of curling lanes and an adjacent reception hall. The club was entirely privately funded by its founding members, who were curling enthusiasts.

In 1959, a twenty-five meter swimming pool was added creating a year round sporting club that would encourage the participation of families throughout the summer months. In 1974, three tennis courts were added.

This private club is a non-profit organization run primarily by volunteer-members. Each activity is supported by a team of volunteers who manage and oversee it.

For almost sixty years, RCC has supported the youth of our community by way of offering valuable work experience as certified lifeguards, tennis instructors and day camp counselors. Since that time, the Rosemere Curling Club has contributed to the community in many ways. During the summer months, the Rosemere Curling Club offers:

Pool/Swimming

Red Cross Swimming lessons for children of all ages.
Bronze Medallion, Bronze Cross and AWSI (Assistant Water Safety Instructor) certification courses
Swim Team (40 kids, ages 6 to 17); with daily training and they participate in weekly competitions as part of the Association Aquatique des Basses Laurentides
Aquafit (age 65+).
Tennis
Tennis lessons for children and adults.
Affiliation with Santé Tennis: all instructors certified by Tennis Quebec and all instructor to player ratios applied according to Tennis Quebec guidelines
Day Camp
For children age 6 -12 years to a maximum of 40 per day
Activity themes include sports, science, arts and crafts
Ratio of counselors to campers is 1:9
Counselor in Training (CIT) program in effect. Unpaid volunteers (age 12-15years) are trained to become future counselors
All counselors are trained in first aid and two are trained in CPR
Reception Hall with a Bar (with reasonable prices)
Bar mitzvahs
Sweet sixteens
Weddings
Birthday parties
During the summer months, enjoy a warm and secluded site, a semi-Olympic sized swimming pool, a wading pool for toddlers, a large raised patio, a lawn and garden area with picnic tables surrounded by mature trees, and a snack bar on premises. You will also find a terrace beside the club bar overlooking the pool grounds. Day camp services offered onsite. Friday night family BBQ's! Contact us to join now!
Registration Day: Saturday, May 2nd from 10:00 AM to 2:00 PM
224 chemin de la Grande-Côte, Rosemère (450) 437-1374
www.curlingrosemere.com
•
info@curlingrosemere.com