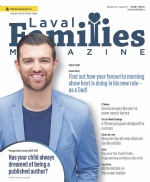 In The Latest Issue:
Latest Issue:
The Natural Heritage of ...
November: Runaway Preven...
10 Candles for the Pédal...
Soccer Concentration Student Athletes Go from Strength to Strength

BY:
Dan Hedges - Pedagogical Consultant - SWLSB
Issue 13
There is a common understanding 'out there' that sports is not about sports, but rather that sports is a parable in which life lessons and life values are contained. I would have to agree.

Here is a quick rundown of a few notable success stories that the Sir Wilfred Laurier School Board Soccer Concentration Program has produced recently. Roberto Linhares has completed University and progressed to work at Montreal Impact and Arsenal Soccer Club in England. Felix Jocham has been involved with German Club Bayern Munich and the German National Soccer Team at the Academy Level. Due to injuries, he is now using his academic standing by pursuing a career as a judge in Germany. (please refer to the video at https://www.youtube.com/watch?v=Fe1de-9oNGQ) The Soccer Concentration Program is still in its early birth and development, and is already turning out some very inspiring success stories.

More recently, I had a conversation with Jeremy Di Lallo, Grade 8 student in the Soccer Concentration Program at Rosemere High School, to talk about his recent promotion onto Team Quebec in Soccer, and also to discuss the 'big picture' with the possibility of playing for Team Canada.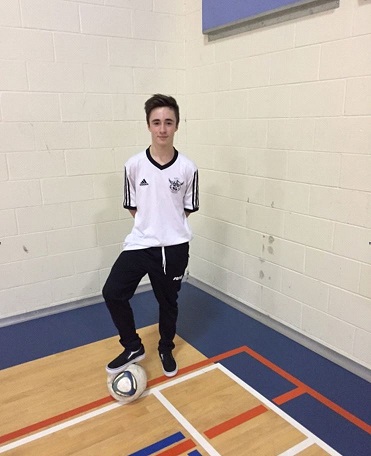 I asked Jeremy to describe what the Rosemere High School Soccer Concentration is 'all about'. He explained to me that academics must be maintained or increased to be involved in this program. He described how coach Andrew Walker and coach Ryan Boutara place a major emphasis on academic success, and in general how expectations around respect in the school community are vital for students in the soccer concentration program.

Throughout the interview, Jeremy kept returning to the role of respect in soccer and in life. He spoke very clearly and confidently about respect towards family, coaches, friends, and in his words, 'everyone in life'. When asked, he talked about how Coach Andrew Walker and Coach Ryan Boutara specifically address the role of respect in the gymnasium, on the field, and in life. Jeremy brought the concept of 'being humble' into the conversation when asked about what his coaches mean when they talk about respect.

When asked about the role that his parents and family played in his soccer and life success, Jeremy got the most animated. He spoke about how his parents are present at practices and games, and he also talked about how much time and energy they dedicate to making his soccer life a reality. He also spoke about how memorable it was when his parents and family heard the news about being accepted onto Team Quebec. To him, this memory of his family receiving news about making it onto Team Quebec is a highlight from the whole Team Quebec experience so far.

While the conversation meandered, it consistently returned to Jeremy's awareness and appreciation of his coaches and parents in making it possible to reach the level of Team Quebec and also to be successful in his academics as well. A very high level of gratitude towards others was abundantly clear throughout the conversation.

As it turns out, Jeremy was approached by Team Canada just recently. He is now vying for a spot on the National Team by participating at a Soccer Identification Camp (Eastern Canada) that was held from Feb. 2 to 5, 2015 in Laval. Congrats, and all the best in this new pursuit!

Jeremy is clearly an inspiration to his community. We always read about how sports are much more about life values than they are about sports. Jeremy himself makes this so crystal clear, reminding us all, that sports is about respect, personal excellence, commitment, gratitude, and the way in which we conduct ourselves on a daily basis.

For more information on the Rosemere High School Soccer Concentration Program visit the website at http://luirat.wix.com/rhs-soccer

Soccer is a universal sport, where athletes best express themselves on the field. Soccer, or in many countries 'football', is known for having some of the world's best and technically savvy competitors. This is the case for Vincent Couto, the captain of the Dawson College soccer team, who has recently been offered a scholarship to study and play soccer in The United States.

In his early teen years, Vincent searched for platforms to demonstrate his abilities. He decided to enroll on the first ever Sir Wilfrid Laurier School Board's Soccer Concentration Program. Vince was coached and mentored by Coach Andrew Walker and Coach Ryan Boutara where he learned to balance academics and athletics. "Self-discipline was one of many important lessons taught in the program, and one of the biggest things that has stuck with me to this very day," said Vincent.

When questioned about what made him want to pursue soccer, this is what he had to say, "I come from an athletic home where I began playing at five and loved it ever since. I feel in love with the sport, and set a goal to play at the university level. I can now proudly say I have achieved said aspiration and could not be more grateful to all that have helped shape me into the player I am today."

At the age of eighteen, Vincent Couto shows exceptional maturity, enthusiasm, and confidence with everything he applies himself to. While the trend of arrogance is popular among young adults, Vincent has remained humble and well grounded. When asked to give advice to the younger generation in hopes to follow the same career path as himself, his response was simple, "There is no shortcut to success; the biggest thing is to be positive, but work hard as well. At the end of the day no one is going to do the job for you. If you push yourself and really strive for excellence, then the results will come." Vincent is not only a remarkable athlete, but a tremendous scholar as well. He expressed that he has a passion for journalism and sports communication. If his career in professional sports does not pan out the way he hopes, then he would seek a job in those fields.

Soccer has taught Vincent to be prodigious on the pitch and in the classroom by displaying remarkable life skills such as responsibility, determination, and discipline. Vincent's final goal is to play for as long as he can, and ultimately never lose his admiration for the game.