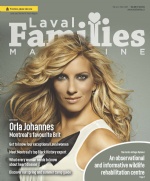 In The Latest Issue:
Latest Issue:
Rabbids Amusement Centre...
Maximizing Children's Po...
Special Needs Camp: A Fu...
Young Authors Contest 2014-2015
Third Annual Awards Celebration

BY:
Frances DiGironimo
Issue 13
March 29, 2015 finally arrived and what a very special day it was! Upon entering the lobby of the Embassy Plaza we were immediately struck by the grandeur of the occasion. The festive decorations, the red carpet, the air of expectation, the people and the hustle and bustle all said, "Very Important Day". From early morning, as the many sponsors were setting up their booths and play stations in the exhibition halls and a bevy of Student Leadership Volunteers (sixty-five to be exact) were bustling about, until the last raffle late in the afternoon, the air was filled with excitement, anticipation and a sense of magic.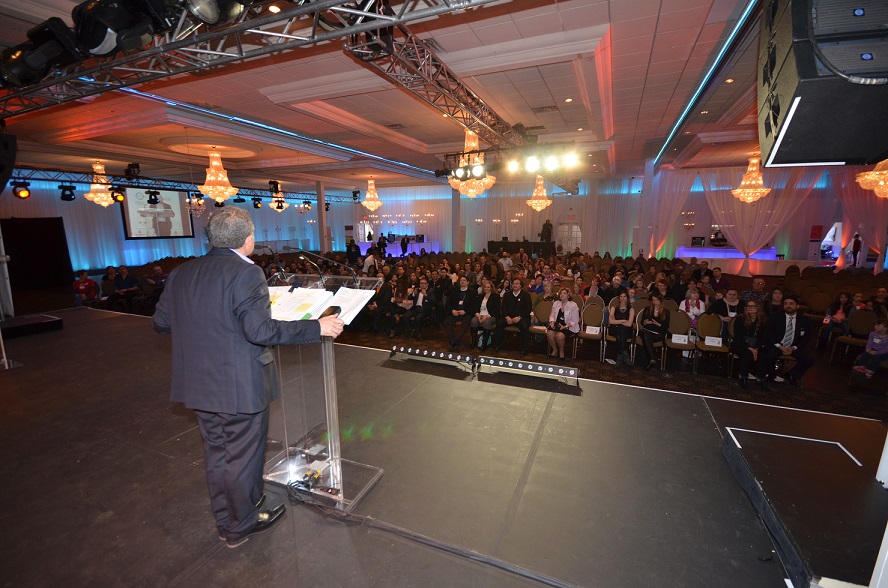 After last year's Young Authors Celebration in February of 2014, Luigi Morabito promised us more and greater of everything. He promised the participation of more schools, more students, more families, more stories, more teachers, more sponsors, more prizes and a grander venue. Does Luigi deliver on his promises? Just read on to find out!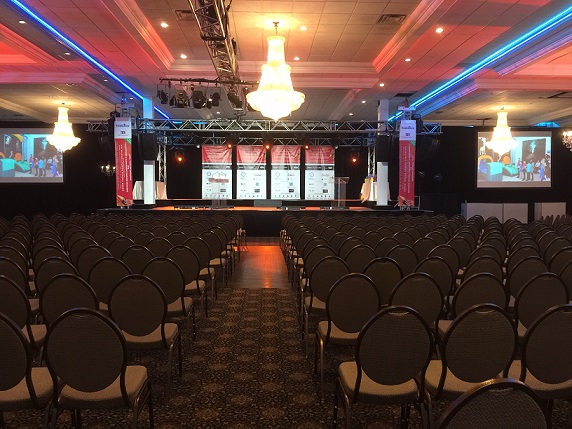 With the invaluable collaboration of the Sir Wilfrid Laurier School Board, "Our School Board", students from all three regions (i.e., Laval, Laurentians and Lanaudiere), representing twenty-six elementary schools, eleven high schools and five adult education and vocational centers, participated in record numbers in this year's contest. In fact, more than one thousand and fifty students submitted entries in all of the age categories, requiring the enlisting of twenty-four volunteer judges and, of course, the support of countless teachers, parents and school administrators. Thank you everyone, you know who you are!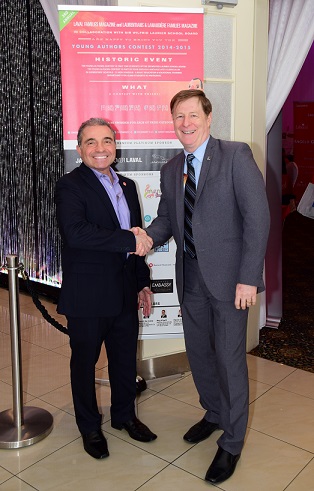 Getting back to the big event, ―or should we say events because of the sheer numbers, more than 1300― the day was divided into three distinct parts with three separate Awards Ceremonies; Cycle One Grades 1 and 2, Cycle Two Grades 3 and 4, and Cycle Three Grades 5 and 6, as well as Secondary 1 to 5, Adult Education and Vocational Training. Each ceremony was equally as wonderful as the previous one, and the main events were repeated three times over by all participants, with equal enthusiasm, with Luigi Morabito at the helm.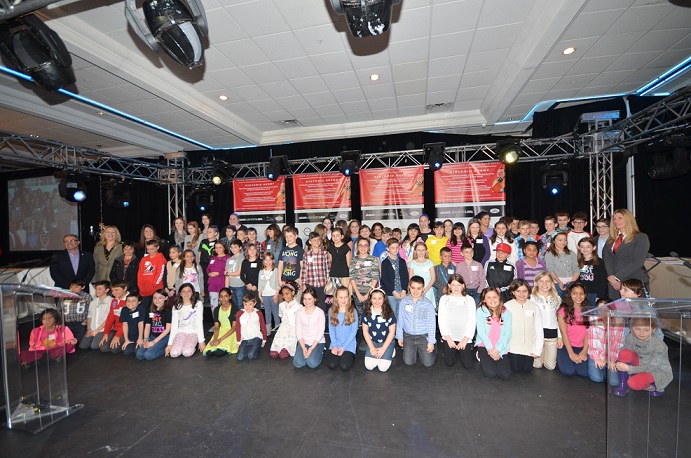 The Young Authors arrived at the elegant Embassy Plaza at the designated time with their parents, siblings and grandparents; each one registered and was handed a bag of goodies that included her/his original story, a certificate of participation, a souvenir T-shirt and a passport to be stamped at each one of the sponsors' booths. Each page of the passport served as an entry in the raffle that took place later in the day, thanks to the generosity of all the sponsors. The Young Authors, celebrities that they are, were then invited by the Student Leadership Volunteers to step onto the Red Carpet to be interviewed on video camera for posterity. How awesome an experience is that? They were then invited to visit the sponsors' booths and learn about all the family support groups, extra curricular activities and summer camps, to taste free samples that included cookies, frozen yogurt and even astronaut food, and to enjoy the inflatable games and activities that were offered for their enjoyment. There was something for everyone, including the parents, who were even offered a relaxing chair massage to melt away the week's tensions. It was such a joy to observe all these beautiful families enjoying the day together!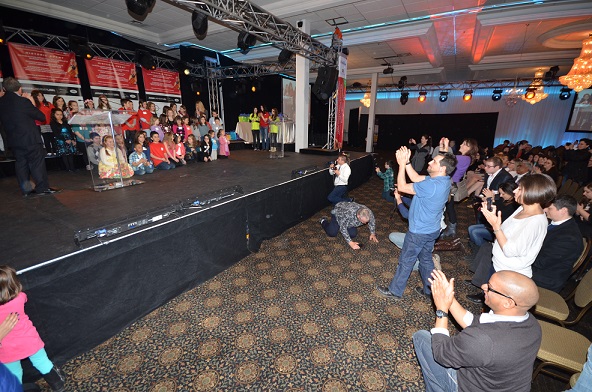 Of course the main event of each of the three sessions was the Awards Ceremony, which took place in the grand ballroom that was filled to near capacity each time. It was quite moving to see all the families, School Board Executives and Commissioners, Members of the National Assembly, Members of Parliament, the Mayor, City Councillors, Sponsors, Principals, Teachers and Contest Judges and Leadership Volunteers, all united for one purpose: to cheer our Young Authors for their participation and to honour their achievements. It was no surprise that as Master of Ceremonies Luigi oversaw the minutest details of each ceremony, and that he acknowledged everyone's contribution to the success of the event, including the twenty-four judges. And let's not forget the raffle of great prizes!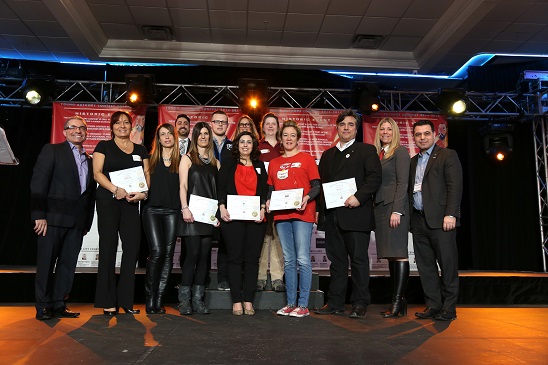 The Sir Wilfrid Laurier School Board has been committed to the project since early in 2014, and has promoted the Young Authors Contest as an integral part of the English Language Arts curriculum. Board Chairperson Ms. Jennifer Maccarone and Director General Ms. Stephanie Vucko praised the Young Authors and all the partners, including teachers and families, and stressed the importance of literacy for this generation, our future leaders. Both Ms. Vucko and Ms. Maccarone are strong advocates for the public school system, both committed to building schools for the 21st century. They are both proud to say that they and their children are also products of the public system. Other guests who reiterated these messages included the Mayor of Laval, Mr. Marc Demers, and city councillors David De Cotis and Paolo Galati. Several of the sponsors were also in attendance to congratulate all the participants and to present the awards. All these special guests graciously took time from their busy schedules to spend the day with the Young Authors and their families to personally congratulate each one of the winners and to pose for countless photos.




Our children certainly felt loved and supported and will undoubtedly keep these memories forever. Theirs and everyone's gratitude goes out to all who collaborated to make this a most successful and memorable day:

Luigi Morabito, Manon Gervais and the entire team of volunteers who worked behind the scenes for many months and saw to the smooth running of the event itself
The twenty-four contest judges who had the pleasure of reading all the wonderful stories but also the difficult and heart-wrenching task of selecting the winners. As Luigi said to all of the Authors, "You are all winners!"
The sixty-five Student Leadership Volunteers and their teachers and administrators who accompanied them from: Laurier Senior High School, Laval Liberty High School, Rosemere High School, Mother Teresa High School and Lake of Two Mountains High School. They took care of everything!
The Young Authors and their families, who came in great numbers to celebrate the event
The management and staff of the Embassy Plaza who showed us the meaning of hospitality
The sponsors without whose generosity this event would not have been possible: Jaguar and Land Rover Laval, Cosmodome, Menchie's Frozen Yogurt, AGOO Children's Health and Wellness Center, MOTHER FOR LIFE.com, National Bank, KidBIz, Derm & Touche Nail Bar, BMO (Maria Battaglia), mimiRebelle, 4Cats Art Studios, Conference Regionale des Elus de Laval, Angelo G. Iacono, Liberal Party of Canada, Financiere Sun Life, Reussite Laval, Embassy Plaza, Enfantino, Tamaracouta Scout Reserve, Montreal Impact Soccer Schools, KLODA FOCUS Son/Eclairage/Video, Accounting Firm of EY, La Renaissance Learning Center, Sir Wilfrid Laurier School Board, Domnizelles. THANK YOU ONE AND ALL!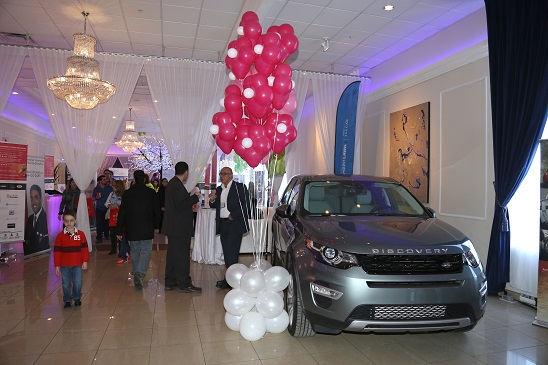 What does Luigi have in store for us and our Young Authors next year? Time will tell, but in true Luigi fashion you can be sure that there is no way to go but up. Young Authors, get ready for next year!