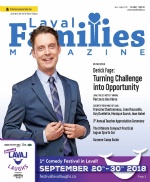 In The Latest Issue:
Latest Issue:
Summer in the City
Derick Fage: Turning Cha...
Sneaky Ways to Get Your ...
Fred Levine's Story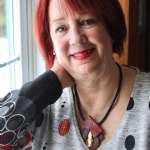 BY:
Lori Leonard
Issue 15
Fred Levine, loving father of four (three of them being triplets) is a true family man. His eldest daughter Jordyn is 16 and 14-year-old triplets include Jaimee, Jesse and Justin. Life with four children, especially with triplets, is hectic but Fred enjoys every single moment!

Fred and his family resided in Toronto when suddenly one night Fred experienced a seizure in the middle of the night. Fred was diagnosed with anaplastic astrocytoma, a rare cancerous brain tumor. Fred had to endure many difficult weeks, months and years of treatment. The cancer has left him susceptible to seizures at night which still plague him today. Due to these seizures, Fred was and is no longer able to work.

When Fred was a youth, he had a natural talent and passion for cartooning, and in later years, he also enjoyed writing. In order to lead a somewhat normal life and to distract him, Fred decided to write a children's book entitled One Good Deed Deserves Another. Initially, Fred wrote the text for the book and later on due to his artistic aptitude, decided to illustrate his book with cartoon characters representing his children. The illustrations took him one year to complete. Fred's book was published in 2013; a colorful, charming hard-covered book that talks about how family members help each other out in different trying situations. Although the book is intended for children aged 6-12, adults can enjoy it, too. Fred is donating all proceeds from this book, which sells for $25, to the Gerry and Nancy Pencer Brain Trust, a non-profit organization that generates funds to the Gerry and Nancy Pencer Brain Tumor Center, Princess Margaret Hospital in Toronto.

Many people found Fred and his book to be so inspirational that they really wanted to help. Soon, a new, exciting website was up and running, media became intrigued, then his story was shared on air with well-known CJAD radio host Barry Morgan. Wanting to help Fred became contagious! People from every walk of life reached out. Out of the goodness of his heart, a retired gentleman who had access to professional recording equipment, animated the characters in Fred's book and made them come to life. A sweet little girl with an angelic voice created the voice-over for the film (she has never even met Fred). Music was added to the film which was recorded on a DVD. What is more, a kind woman who wanted to help Fred decided to read his book aloud to hundreds of young school children who just adored it ―so much so, that the children wrote Fred many thoughtful, touching notes―Fred was truly moved when he read them, especially the notes that told him to keep on fighting to win his battle. Another note read "I never knew what I wanted to be when I grew up. Now I know that I want to be an author because of you." Fred was then invited to read his book aloud at the opening of the new Laurentian Literacy Center located in Lachute, where 40 people listened to Fred, admiring his humorous, natural ability to relate a story. They flocked to him after the reading, wanting to purchase the book.

Fred's family members all provide wonderful support. Fred's sister-in-law, Jeannette, explains "Fred has a beautiful soul and his book project is something so worthwhile, special and magical. Fred's essence, purpose and talent make Fred a very unique person. Fred teaches us all a lesson about paying it forward."

I personally had the pleasure of meeting Fred and his brother Brian at a musical concert held at the Rialto Theatre in early spring of this year. Brian was originally supposed to bring his wife Jeannette who was out of town that evening. Fred took her place. It was destiny because since that evening Fred, his family and I have become close friends. I personally liken Fred to a "Terry's chocolate orange". When you peel off the exterior foil, there are many sections to the orange. Each of the sections represents something different about Fred: honor, kindness, integrity, perseverance, creativity, love, talent, honesty, humor, humility and humanity at its best.

A few months later, unbeknownst to us, Fred revealed that he had secretly written and illustrated a second book entitled Triple Play. The same lovable, round-eyed characters (his children) are featured once again. This time though, it's about a baseball team (because Fred is absolutely passionate about baseball). Whether the children are in a bit of trouble "foul play", or they have to run backwards to catch "the fly ball of life" or whether they have to run to "home base", they learn many life lessons together as a team.

When the Toronto Blue Jays heard about this new baseball book and how Fred would contribute all funds from the sale of his book for brain cancer research, they wanted to support Fred's book too. They are now selling Triple Play through their website, at their stores and through their boutiques. They placed Fred's book front and center in their stores for everyone to see. Fred was flattered. Soon, Fred's story will also be presented in a national newspaper and through televised media. Once again, the team is growing at a frenetic pace.

Due to the fact that Fred reached out with the inspiration of his books, others were there to quickly and joyously grasp his hand. Fred's story demonstrates the power of people and how Fred has made and continues to make a difference in the life of many. What is so inspirational is that Fred has never taken the time to sit down and wallow in self-pity. Instead, he turned a negative situation into a positive one: a book that can be shared by parents and grandparents who want to read a 'feel-good' bedtime story to their children or grandchildren. A book meant to be read aloud in class to students― to encourage them to feel good when they help each other.

Fred's life lessons are contagious as his team of supporters grows daily. When I asked Fred about his books and what they represented to him, he responded that they are about the power of kindness, that he wants to celebrate his love for his family and that he would like to "pay it forward". He hopes that funds raised from the sale of his books will help with brain cancer research. Fred adds, "These books, like a sailboat, have propelled me through rough waters and have kept me on an even keel."

Writing these books has shown others that they, too, can realize their dreams if they just reach out and grab the extended hand that is ready to help. Fred says that it makes him laugh when he's asked to autograph his books and adds in his very own humble way, "I am no hero. I just like to write and draw and help others."

We don't know yet what is on the horizon for Fred, but as you read this article, there is a good chance that Fred is secretly penning his third book. I wonder what the next book will be about.

If you would like to listen to Fred's radio interview, view the movie with the voice-over by the little girl, or purchase your very own copies of Fred's two books (wonderful holiday/birthday gifts), visit www.tripletroublebook.com. By purchasing these books, you are helping to raise funds for brain cancer research and helping to promote kindness. Can you think of any better gift? Let's pay it forward!