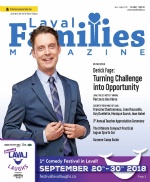 In The Latest Issue:
Latest Issue:
Summer in the City
Derick Fage: Turning Cha...
Sneaky Ways to Get Your ...
A Real Estate Team with Heart
Équipe Sperano – Re/Max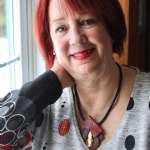 BY:
Lori Leonard
Issue 15
Sebastien Sperano, a real estate agent and owner of his own RE/MAX office in Vimont-Auteuil Laval, has a proud, rich heritage of three generations of real estate brokerage. In fact, it has become a true family tradition as Sebastien's grandfather André, his father Robert, his wife Lorraine Pearson, as well as Sebastien's own wife Seylac Try are all part of this unique family business. These days, it is rare to see such a young person who actually owns his his real estate office. Bravo Sebastien!

The Équipe Sperano logo that Sebastien utilizes on his promotional material includes three sections of his family "real estate wheel" which represent the three generations of his family history. Sebastien knows that the wheel will keep turning for many generations to come.

There is something to be said about having such a rich history and knowledge of the territory of Vimont-Auteuil and its residents. Similar to an heirloom recipe for a fine Italian wine, Sebastien, his family and his team of caring individuals represent "the gold standard within the real estate industry". Remarkably, Sebastien's team ranges in age from 21 to 86. With all of this wisdom and knowledge, Sebastien's goal is to become the number one real estate reference in Vimont-Auteuil. Sebastien's grandfather André, the oldest member of the team is the senior advisor and with his abundance of energy and enthusiasm, still attends "open houses" every weekend with Sebastien. Sebastien is extremely proud and pleased to have his grandfather André, (his best advisor) to provide guidance, knowledge and to be such an integral part of the team.

Part of their "recipe for success" is that Sebastien and his team provide outstanding customer service – service that is extended with honesty, integrity and heartfelt guidance with his customers' satisfaction being the goal. A unique factor is that while Sebastien and his team have passion, energy and youth on their side, they enjoy the privilege of having the knowledge that Sebastien's grandfather, father and extended family have passed along to him throughout the years.

Sebastien and his multi-cultured team believe in the good old values of "rolling up one's sleeves and getting the job done the right way!" They offer a personalized approach and identify themselves as "real estate advisors", rather than sales people. They are not afraid to let tentative buyers know if their choice is not suitable or just not the right fit. Instead, they prefer to use spot-on strategy that will ensure that the buyer or seller will be happy and satisfied for years to come.

In order to provide the best customer service possible, Sebastien and the Sperano Team offer their real estate services in a wide-spectrum of languages: English, French, Arabic, Cambodian, Italian, Portuguese, Russian and Spanish. They truly care about their clients and can provide them with such valuable information as to where the best schools and medical centers are located, which associations are in the community, where parks are situated, location of daycare facilities, town regulations and so much more.

Sebastien and his team would be pleased to advise you on 10 amazing tips to sell your property and to elaborate on 5 mistakes to avoid when selling it. He suggests that when you are purchasing a new home that you take the time to analyze your needs (what are the priorities?), your tastes (what is your preferred style?) and other important, relevant questions. Buying or selling a home is probably one of the largest, most important business transactions you will ever make in your lifetime. Be sure to get the correct advice and advisor.

Members of the Sperano Team include:

Sebastien Sperano – Team Leader
Seylac Try, Robert Sperano, Lorraine Pearson, Frank Baker – Brokers
Ivan Borlodov – Broker and Assistant
André Sperano, Senior Advisor, Tito Kang – Advisor
Mr. Kevin – Business Development
Mr. David - Sales Director
Lucia Cartillone, Carlo Cimo and Stéphane Lapointe (porte-à-porte) – Public Relations
Bianca Bayer – Social media, video production
Mr. Kim – Signage and deliveries
They also enjoy an integral partnership with EGP Professional photographers.
Sebastien and his team truly care about their community. They enjoy making a positive difference and a valuable contribution to their cherished community. As such, we may be able to truly call them "The Real Estate Team with Heart". Some of the outstanding community projects that their team has recently been involved with or will be involved with include:
Enfant Soleil – by providing an important contribution for this fundraiser
Being a member of the PPO (Parents Participation Organization) at a local school
Participation at a community fundraising spaghetti dinner event
Donating to the local Monteuil Soccer Team
Participating in an important fundraising event for the Alzheimer's Society which raised approximately $48,000
Assisting with the Parc Lausanne Family Day project
Being a member of Le Comité du Parc Lausanne - Halloween event with candy, haunted house, give away of 500 pumpkins (in collaboration with Fruiterie d'Auteuil) to raise funds for autistic children
Creating the new "Project Love" for the elderly in collaboration with Société Bénévole Entraide, Vimont-Auteuil branch
Becoming a platinum sponsor for a project called "The Young Author's Contest" in collaboration with Laval Families Magazine
Being a partner of the Comedy Night to raise funds for Terry Fox School
Participating in the annual support program for "The Freedom Walk" (to support local women's shelters) in collaboration with Laval Families Magazine
As one can see, Sebastien and the Sperano Team have helped youth, sports groups, schools, the elderly, women, children with special needs and educational projects within the community.
Sebastien and his Team are not only experts who are passionate and caring about assisting others to purchase or sell a home, but also about making their community a better place to live!
Why not drop by to see Sebastien or one of the Team members? Their office is located at 5505 des Laurentides, Laval. They will welcome you with a warm smile, a firm handshake and a traditional Espresso!
For more information, check their website at
www.sperano.ca
or call at 514 993-3011.